Make my heart remember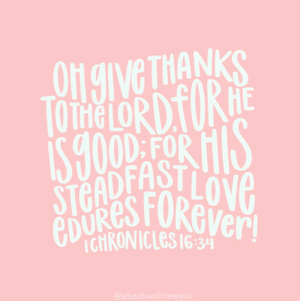 1 Chronicles 16:34 "Oh give thanks to the LORD, for he is good; for his steadfast love endures forever!" 
 
Some of my favorite worship songs are centered around straight scripture as lyrics and this verse is one that instantly triggers a familiar melody inside my head. I absolutely delight in worship through music. Admittedly, my favorite part of Christian camp during my youth was the concert style worship. It felt like everything else would fade away except for the voice of the singer and the accompanying instruments. It was almost impossible for my brain to concentrate on anything other than the words ~ which were all about God and meant to encourage encounters with Him. Distractions faded away and I was simultaneously so encouraged as I looked around at my peers engaged in similar experiences. 
 
We can't spend ENOUGH time in gratitude and thanksgiving for our Creator. His character is beyond praiseworthy. The way that He delights in us is incredibly loving. His grace (getting what we don't deserve) and his mercy (NOT getting what we do deserve) is humbling. He takes care of us and He fights for us. The ultimate sacrifice that He made of His Son Jesus on the cross to save us. My heart overflows.
What does gratitude look like for you? I have several friends that keep record of what the Lord has done in their lives in a journal. Because we are a forgetful people, y'all. I'm working on this practice myself because I want to go back and remember the specifics. I know that the Lord has been faithful, kind, generous, gracious, loving, and so much more. Because He has been, I know that He will continue to be! MAKE MY HEART REMEMBER.
Hannah Gramling, Wheatful Wednesday Devotional Author
Hannah is a residential realtor in DFW. She is passionate about encouraging women to chase hard after Jesus regardless of marital status. She believes linking arms in authentic community is a beautiful picture of His kindness & faithfulness. 
Hannah loves accessorizing, making memories with her tribe, traveling the world, and the enneagram. Find her on the trails with her Boston Terrier pup, on an outdoor patio with friends, content creating, or dreaming about a new adventure!
---
Also in Wheatful Woman Blog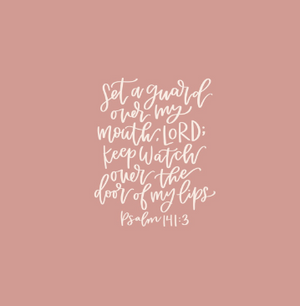 God, please forgive me when I have used hurtful or unnecessary words to gain a sense of control. Help me trust you to guard every word that comes out of my mouth.
We can find biblical hope for this struggle when we consider the story of the Israelites' exile in the Old Testament. The afflictions of the Israelites' exile were two-fold. On one hand, they were exiled because of their own sin, and on the other hand, their burdens were increased because of the sin of the nations oppressing them. I am certain that if I were an exiled Israelite, I would have been grumbling and throwing pity parties the majority of the time. How does God respond to them? Throu...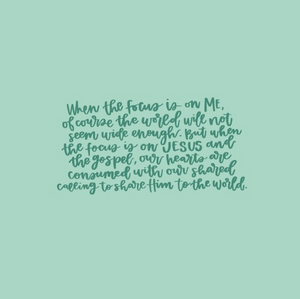 As Christians, the biggest problem with unhealthy comparison is that it misplaces our passion for building the Kingdom of God onto building our own kingdoms of self. Comparison strips us of seeing what God has given us and called us to.