Gratitude At All Costs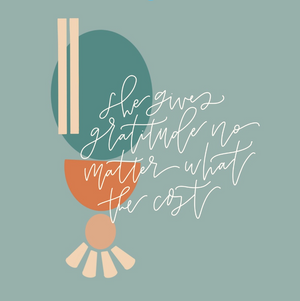 Rejoice always, pray constantly, give thanks in everything; for this is God's will for you in Christ Jesus. 1 Thessalonians 5: 16-18 

Is there someone in your life that no matter what their circumstances or heartaches may be, they thank Jesus in every moment? I have a few people like this in my life and they inspire my faith, sparking new levels of trust in our God and spurring me on further to thank Him, in everything. 

This isn't always easy for me. There are some days that are harder than others to fully rejoice in God's goodness when everything around me is shouting pain. 

BUT… God's living Word tells us specifically that His faithfulness does not depend on my wisdom. In other words, God's steadfast love and grace are ever-flowing upon us and no matter what our circumstances are, His love is abundant and perfect. 

Let's choose to be women who give thanks, no matter what is thrown our way. Let's choose to be women who truly take God at His word. Let's choose to be women who are actively rejoicing and thanking Jesus in everything. Let's be the women who others look at and say, she gives gratitude no matter the cost. Her rejoicing in Jesus, despite her circumstances, gives me hope that I can be that woman, too. We can be these women, friends, because we serve a God that is good, in everything.
Kristen Meyer Schumacher is a marketing professional, a lover of writing, and an avid volunteer in her local community. Her passion and heart are to help women thrive in their God-given callings and unique gifts. In her free time, she blogs about embracing the everyday challenges of life while finding freedom in truly existing fully in your own skin. You can also find her spending time with her husband, William, and chasing around a very hyper and cute golden retriever named Brody. You can read more on her blog at Existingfully.com.
---
Also in Wheatful Woman Blog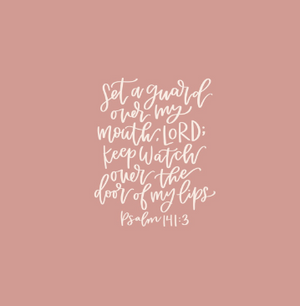 God, please forgive me when I have used hurtful or unnecessary words to gain a sense of control. Help me trust you to guard every word that comes out of my mouth.
We can find biblical hope for this struggle when we consider the story of the Israelites' exile in the Old Testament. The afflictions of the Israelites' exile were two-fold. On one hand, they were exiled because of their own sin, and on the other hand, their burdens were increased because of the sin of the nations oppressing them. I am certain that if I were an exiled Israelite, I would have been grumbling and throwing pity parties the majority of the time. How does God respond to them? Throu...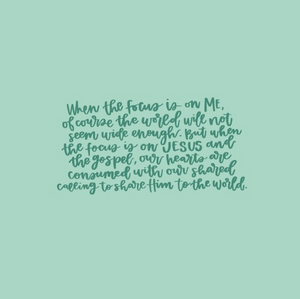 As Christians, the biggest problem with unhealthy comparison is that it misplaces our passion for building the Kingdom of God onto building our own kingdoms of self. Comparison strips us of seeing what God has given us and called us to.