We must stand. We must listen. We must learn. We must do our part.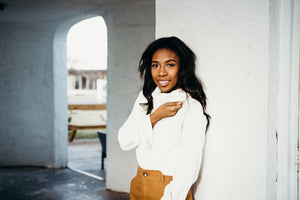 A Letter From Wheat and Honey Co.
We must stand. We must listen. We must learn. We must do our part. 

How do we do our part well? This is the question I've been asking myself and praying over. I care so deeply to be a part of the solution, to raise awareness and to do something about the events of our world right now, today. 

Today, I want to share that I am praying consistently for direction. Every single one of us are part of the solution. Praying these words from our dearest Mariah would touch us each uniquely today and that we would step forward with confidence that our God is weeping and wants to use each of us to lead change. 

This is not as it was meant to be. God, show us the way. We are responding.

Brittany Goff, Founder

 
---


Dear Wheat and Honey Co. Community, 

My name is Mariah Howard. 

For those who are new to our community or simply do not know me, I am blessed to be one of your Wheatful Wednesday devotional writers. What an honor it is to virtually connect with many of you through the gift of God's word. I am writing this letter, on behalf of myself and the entire W&HC team, to address the current racial injustices being highlighted after the senseless murder of George Floyd. 

I am an African American/Black woman living in these uncertain times, where history is truly repeating itself. I was raised by two strong black parents. THEY were raised by parents who endured and persevered through different forms of slavery, poverty, and injustices. 

Through generations of oppression, resiliency and perseverance rose to the top. 
I always ask

 

"BUT HOW?"

Racism, inequality, injustices, and overall systemic oppression are engrained in America's history. It's the hard truth and reality of this country. From slave patrols to Jim Crow Laws to the riots of today, the marginalized and oppressed are exhausted from not being heard and/or treated fairly. We should all be crying out for justice and overtly heartbroken,

 

BUT HOW? 

Wheat and Honey Co. is founded on Psalm 81:16, which states: "But you would be fed with the finest of wheat; with honey from the rock I would satisfy you." This should be a firm reminder each time you see the name (Wheat and Honey Co.) that God provides for His people. 

THIS company does not stand for or tolerate racism, and through this letter, I want to remind you that God has called us to be in this world but not of it (1 John 2:15-17). 

I have broken into sections the answers to the

 

"BUT HOW?"

 

moments during a time like this in our country. 

Anger:

 

"In your anger do not sin" Do not let the sun go down while you are still angry," (Ephesians 4:26) – Be angry, be frustrated, but be mindful about how you respond.

Heartbrokenness:

 

"Peace I leave with you; my peace I give you. I do not give to you as the

 

world

 

gives. Do not let your hearts be troubled and do not be afraid." (John 14:27)

SPEAKING UP:

 

As you speak up for those who cannot speak for themselves (Proverbs 31:8)
remember, "Gracious words are a honeycomb, sweet to the soul and healing to the bones." (Proverbs 16:24).

Trusting the character of God Almighty:

 

While we as a community are not going to choose to ignore the injustices of this world, we will NOT take our eye off of The Risen Savior. Through generations of my family, I believe Salvation is the driving force behind our resiliency and perseverance. There is power in the name of Jesus. There is healing in the name of Jesus. "I am the light of the world. Whoever follows me will never walk in darkness, but will have the light of life." (John 8:12)

"The Lord will fight for you, you need only to be still." (Exodus 14:14) – God sees all. He is not surprised by anything happening in America today. 

Wheatful Women, "You are the light of the world." (Matthew 5:14)

Remain faithful in prayer and know that the Wheat and Honey Co. Family is praying with YOU.

With love, Mariah. 
---
Also in Wheatful Woman Blog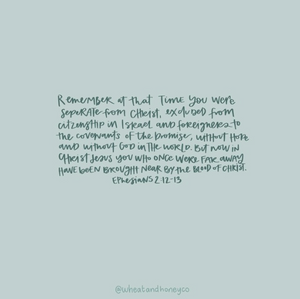 Mephibosheth, whose name means "shame", was the son of Jonathon and the grandson of King Saul. He was a crippled man living in a dry wasteland called Lo-Debar which means "no pastures." He was living there because when he was just 5 years old, news spread that his dad and granddad, Jonathan and Saul, were both killed. The remainder of Saul's family could only assume that with the new King David coming into power, they would all be killed off next, so they fled in fear to become exiles and ene...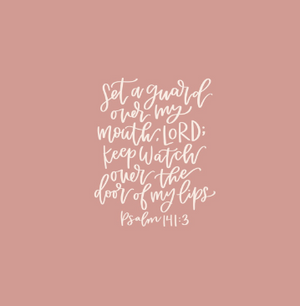 God, please forgive me when I have used hurtful or unnecessary words to gain a sense of control. Help me trust you to guard every word that comes out of my mouth.
We can find biblical hope for this struggle when we consider the story of the Israelites' exile in the Old Testament. The afflictions of the Israelites' exile were two-fold. On one hand, they were exiled because of their own sin, and on the other hand, their burdens were increased because of the sin of the nations oppressing them. I am certain that if I were an exiled Israelite, I would have been grumbling and throwing pity parties the majority of the time. How does God respond to them? Throu...