I Will Heal You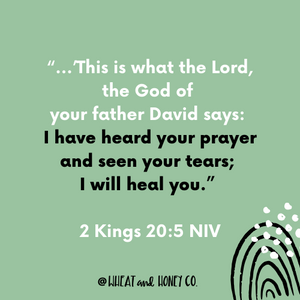 I'm vividly taken back to the place where I was face down in the ashes of my own life that quickly and painfully slipped through my hands. I was left with a letter telling me I wasn't going to be married anymore, and the weight of my broken heart brought me crashing down. 
How can I see God when I feel the furthest thing from being seen? 
God, how are you good --- when all that's left before me is the pile of ashes of the life I once dreamed to keep?
God, why? Can you even hear me? 
These questions have been and can be so incredibly real to us. You may be trudging through these trenches right now in this very moment, or it may be to this day a painful memory from the past you can't seem to heal from. 
I want you to take a step back, take a deep breath, and bring yourself to this place that you've been begging God to hear and heal your cry. Right now this may feel excruciatingly painful, but trust me, He's present at this very moment. 
What is it you want or need God to hear? 
What's holding you back? 
He already knows. He's not surprised. He sure won't be offended with the anger, frustration, or brokenness found within these cries. 

For me, I was real with God. My surface layer superficial prayers transformed into the gruesome raw and real. I would spend hours telling him how this wasn't fair while sobbing on the floor in utter despair. How there was no way I could possibly move or breathe another breath past this. I begged Him just to know why, and at that moment felt defeated in not feeling like I could ever get a reply.

Sometimes we get so caught up in our "why" that we can easily forget that God is always moving within our cries. We always want the healing "now", and when the silence appears to come in return, it's mistaken with us believing we are left completely unheard. 

"Before they call I will answer; while they are yet speaking I will hear." Isaiah 64:24 (ESV)

Something we must not forget is our pain is always followed and predestined by God with purpose. There is purpose in our story aside from our pain. Instead of asking God "why", ask Him to answer you in the "how" He's going to use this for His glory and His greater good. Scripture tells us if we ask of things that align in His will, it will be given unto us. 

"And this is the confidence that we have toward him, that if we ask anything according to his will he hears us. And if we know that he hears us in whatever we ask, we know that we have the request that we have asked of him." 1 John 5:14-15 (NIV)

My deepest agonizing cries were not always met with a quick fix. Instead, I can assure you that I was left with a peace that could only come from The Lord, and consumed with a powerful drive of perseverance towards my purpose. 

As for my story, my marriage was not saved, but my story didn't end there. By God's grace, He gave me a powerful story; one of hope, healing, and one of being found by a God who heard my every cry. A story that serves as a witness to others of the beauty and magnitude of a mighty God ready and willing to transform lives --  all because of His love. 

Whatever your story is right now, He's not finished with you. You've got a story He's just as ready to use. 
He promises to heal. It's the entire ministry of the gospel. On our part, It takes faith, complete trust in His timing to bring this to pass, and belief that we are always heard, not forsaken.  

"So faith comes from hearing, and hearing through the word of Christ." Romans 10:17 (NIV)

If we believe in God and we believe in the gospel to be the truth, we must stand on His word that His promises will prevail. It takes full-on faith in believing that if I come to God in full surrender He will take that and use it for good, and I will one day find freedom from this. 

I am heard, and I will be healed in Jesus' name. 

"...'This is what the Lord, the God of your father David says: I have heard your prayer and seen your tears; I will heal you." 2 Kings 20:5 (NIV)

- Rhianna
Meet the Author:
Rhianna Marie Mitchell is the author of "Faithfully Fervent: Standing Firm as a Woman of God in a World Ready to Run". Rhianna is a pediatric registered nurse, and is passionately following her calling into ministry by radically pursuing her mission to mirror God's vision. Her mission is to help bring hope and healing through her testimony. She will fiercely fight to empower people to know Christ, and believe in His incomparable power to transform and save. Find more about Rhianna at faithfullyfervent.com.

Photo credit: @ashiamosleyphotography
---
Also in Wheatful Woman Blog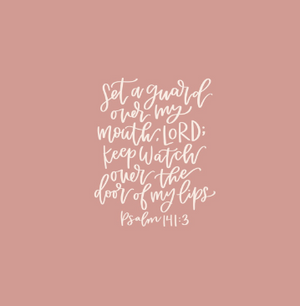 God, please forgive me when I have used hurtful or unnecessary words to gain a sense of control. Help me trust you to guard every word that comes out of my mouth.
We can find biblical hope for this struggle when we consider the story of the Israelites' exile in the Old Testament. The afflictions of the Israelites' exile were two-fold. On one hand, they were exiled because of their own sin, and on the other hand, their burdens were increased because of the sin of the nations oppressing them. I am certain that if I were an exiled Israelite, I would have been grumbling and throwing pity parties the majority of the time. How does God respond to them? Throu...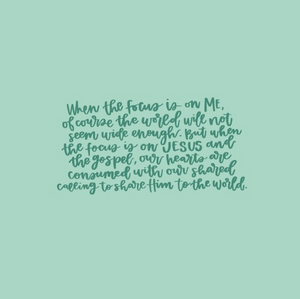 As Christians, the biggest problem with unhealthy comparison is that it misplaces our passion for building the Kingdom of God onto building our own kingdoms of self. Comparison strips us of seeing what God has given us and called us to.