Find out if you're a fair-weather fan in your faith
Every good gift and every perfect gift is from above, coming down from the Father of lights, with whom there is no variation or shadow due to change. – James 1:17
It's a somber Wednesday for most sports fans this morning because it's officially the end of college softball season. Throughout May and into the first week of June, every restaurant and store you walk into in the South seems to be watching college softball in the background, cheering on one of the two teams fighting for the championship. This year, my Oklahoma Sooners made it to the final round and were vying for their third title in four years.

Last night, just a few hours before game two, my husband and I were talking about what my best friend and I had planned for our meetup dinner. "Are you going to watch the game at 7:30 p.m.?" he asked. I half-joking responded, "After last night, I'm not sure I even want to." We both laughed and he ended the interaction with "you're such a fair weather fan."

While I know he was joking about my loyalty to our favorite college team, he wasn't far off base. I'm definitely a fair weather fan in my faith.

If I'm being really honest right now, I have to say I have a tendency to base my loyalty to God's character on the landscape of my circumstances. When things are looking good and all is well, it's easy to trust God, remember He's in control, and praise Him for my blessings. But when things look grim and my outlook is disheartening? Oh, that's another story. I'm quick to worry and doubt and try to take back whatever control I can get my hands on. I quickly forget all the times God has shown his goodness and sovereignty and immediately jump to the worst case scenario.

Do you do this too?

The Bible clearly states instances of God's trustworthy character that we can cling to in times of doubt. He never changes (James 1:17). He is good (Psalm 34:8). His love is unfailing (Psalm 36:7). He works all things together for our good (Romans 8:28). He has things prepared for us that we can't imagine (1 Corinthians 2:9). The list could go on and on. And yet, we still doubt His character when our lives don't look like we expected.

But we don't have to be fair weather fans in our faith, only standing and cheering when things look good. We can cling to the foundation of who God is, and root ourselves in the promises found in His Word. Even when our circumstances are bad, God is still good. Even when we don't feel loved by someone, God's love is unfailing. Even when a situation feels broken and unmendable, God is still using it for our good. And even when we don't have control and can't see how a plan will unfold, we can know God has things prepared for us we can't begin to fathom.

Back to the origin of the story, the Sooners did end up losing the Series last night. While it's never fun to be on the losing side or to feel the sting of defeat, my loyalty to the team doesn't wane. Praying alongside you today that our faith and loyalty to God would be the same.
Challenge: Write down the descriptions of God's character and put them in a journal. Next to each instance, write your "Even If" statement. For example, God is good - Even If: my body fails me and my health is struggling. Practice this reminder of God's character as needed.
________________________________________________________________________
Jantzen Jolly-Miller is a marketing professional and freelance faith writer who is on a mission to help women get real: real with themselves, with their business, and with their relationship with God and His church. In addition to being the lead content writer for Wheat and Honey Co., she blogs about personal takeaways from her life and faith walk to help women create positive change in their everyday routines at JantzenJollyMiller.com
---
Also in Wheatful Woman Blog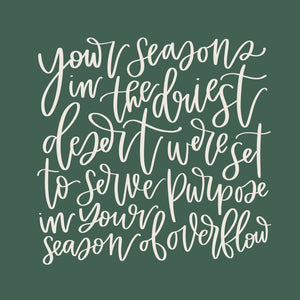 There is great power behind The Lord pouring into our lives abundantly more than we could hope or imagine. It's in the overflow. According to Merriam Webster, overflow can be defined as, "to fill a space to capacity and spread beyond its limits". All of us are limited to the extent of action or changes we can make alone. But we have a limitless God who has the power to move and flood the open spaces for His glory to reign. We have opportunity to overflow into the lives of others when we're fi...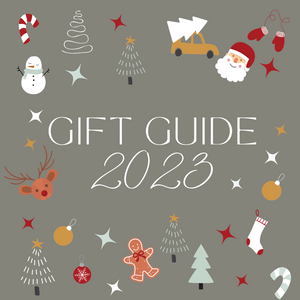 Gift guide to encourage the believer!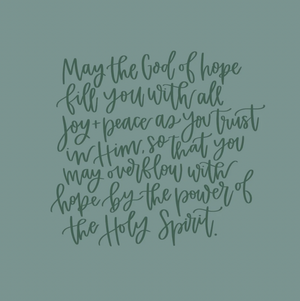 We have a beautiful promise from Jesus that He will fill us back up and refresh our spirit by giving us peace and joy. First, we're instructed to take action by trusting and remaining open so He can flow in. What does it look like to have Jesus meet you where you're at to show up and refill you back up?