What God says about "busyness"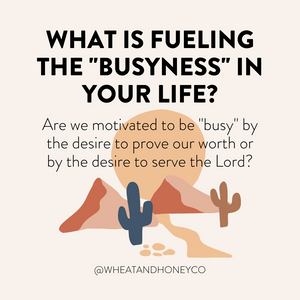 This devotional is an excerpt from our brand new

 
Distracted: 40 Days to Know God More & Live Freed
 

Devotional. In this new tool, we address lies of the world and confront them with the truth of God.


Distraction: Busyness
 
First Thoughts:
Lie of the world: The more you "do" the more you are worth.
Truth of God: The best use of your time is with Me.

Devotional:
As Jesus and his disciples were on their way, he came to a village where a woman named Martha opened her home to him. She had a sister called Mary, who sat at the Lord's feet listening to what he said. But Martha was distracted by all the preparations that had to be made. She came to him and asked, "Lord, don't you care that my sister has left me to do the work by myself? Tell her to help me!"

"Martha, Martha," the Lord answered, "you are worried and upset about many things, but few things are needed—or indeed only one. Mary has chosen what is better, and it will not be taken away from her." Luke 10: 38-42 NIV

What is the meaning of life? To accept Christ as our Savior and to follow Him the rest of the days of our lives. It takes daily discipline to slow down and assess "why" we are busy. Being "busy" and fueled by the strength of the Lord is a different type of "busy" than being motivated by proof of worth. 
Prayer / Application:
God, thank you for the reminder that the best use of my time is with you. I pray for a mind to recognize the motivation behind my "busy" so I might eliminate my desire to prove my worth through giving into hustle culture. Help me to rest with you more and work for you and you alone. Amen.
 
What is fueling the "busyness" in your life?
---
Also in Wheatful Woman Blog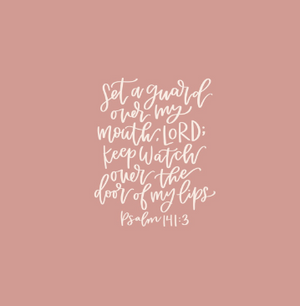 God, please forgive me when I have used hurtful or unnecessary words to gain a sense of control. Help me trust you to guard every word that comes out of my mouth.
We can find biblical hope for this struggle when we consider the story of the Israelites' exile in the Old Testament. The afflictions of the Israelites' exile were two-fold. On one hand, they were exiled because of their own sin, and on the other hand, their burdens were increased because of the sin of the nations oppressing them. I am certain that if I were an exiled Israelite, I would have been grumbling and throwing pity parties the majority of the time. How does God respond to them? Throu...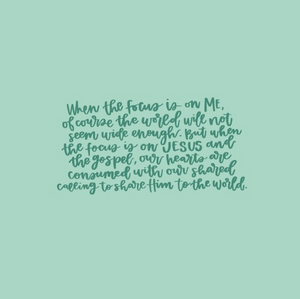 As Christians, the biggest problem with unhealthy comparison is that it misplaces our passion for building the Kingdom of God onto building our own kingdoms of self. Comparison strips us of seeing what God has given us and called us to.