What can I bring?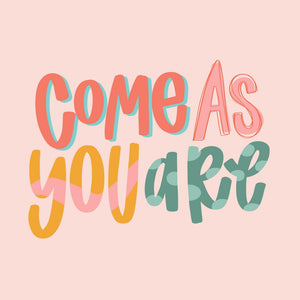 "Behold, I stand at the door and knock. If anyone hears my voice and opens the door, I will come in to him and eat with him, and he with me." Revelation 3:20 
Have you ever been invited somewhere and asked, "What can I bring?" only to hear, "Nothing" or "Just bring yourself" as the response? What a relief to not have to make, bake, pack or pick up anything and just know you can simply show up and be welcomed in…just are you, even with empty hands. 
Jesus does this for us, too. Every minute of every day. And His invitation is infinitely better. 
Because we're always invited, we never have to bring anything, and we can always come exactly as we are - broken and empty-handed. The table is always set, a banquet is always prepared, and a seat is always waiting for his "honored guest" ...us. (Psalm 23:5) He has the bread of life and refreshing waters to feed our hungry souls and in His presence we find the fullness of joy. (Psalm 16:11). But wait, there's more. To top it all off, he never gets tired of us, embraces us with open arms every time, and calls us "beloved" and "friend". 
Prayer: 
Lord, thank you that the table is always set for us. We thank you that regardless of what our day has looked like, you welcome us in as your honored guest, even when we show up empty-handed and broken. Thank you that we don't have to remember to RSVP or prepare an elaborate speech. You ask for nothing. Remind us today that you're always standing at the door knocking ready for us to simply open it. When the world gets noisy today, tune our hearts to your voice and remind us of the fullness of joy that we have in Your presence. Help us remember that the greatest invitation we'll ever receive is the one You give us every minute of every day - to simply be with You.
Annica Fischer, Wheatful Wednesday Devotional Author
Annica has spent more than a decade in leadership development, coaching, and consulting. After experiencing a deeply rooted need for mentorship and support as a Christian mom working in the corporate world, she stepped away to create a space that would help fill that gap. She currently writes and hosts a podcast, The Tried and Truth Podcast, that serves as a platform to equip and encourage women to thrive in their faith, home, and work lives through simple truths and inspiring conversations. Annica lives in Fort Worth with her husband and their three young and wild boys.
---
Also in Wheatful Woman Blog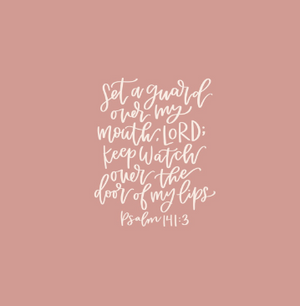 God, please forgive me when I have used hurtful or unnecessary words to gain a sense of control. Help me trust you to guard every word that comes out of my mouth.
We can find biblical hope for this struggle when we consider the story of the Israelites' exile in the Old Testament. The afflictions of the Israelites' exile were two-fold. On one hand, they were exiled because of their own sin, and on the other hand, their burdens were increased because of the sin of the nations oppressing them. I am certain that if I were an exiled Israelite, I would have been grumbling and throwing pity parties the majority of the time. How does God respond to them? Throu...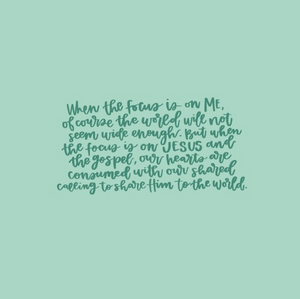 As Christians, the biggest problem with unhealthy comparison is that it misplaces our passion for building the Kingdom of God onto building our own kingdoms of self. Comparison strips us of seeing what God has given us and called us to.