Steadfast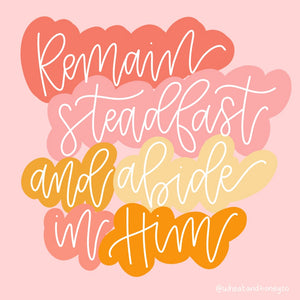 Two-part scripture readings for this week ladies! Write these scriptures where you can see and dwell on them throughout the remainder of the week! 

"The Lord will watch over your coming and going both now and forevermore." Psalm 121:8

With that being said... 

"Let us hold fast the confession of our hope without wavering, for he who promised is faithful." Hebrews 10:23 ESV
 
Our hope is in Christ, alone. In John 16:33, Jesus warns us that this world will provide nothing but trouble for us. He encourages us to "take heart!" because He is our Savior and has victoriously overcome the world. 

Wherever you are in life today, Jesus is watching over you, and He promises that if you remain steadfast and abide in Him, you may have peace. 

"And the peace of God, which surpasses all understanding, will guard your hearts and minds in Christ Jesus." Philippians 4:7 ESV

Jesus is faithful to the faithless, and a hope to the hopeless. 
You are covered by a faithful Promise Keeper. 
 
Mariah Howard is a speech-language pathologist and hopes to impact lives through the power of communication. She believes in the power of having a voice that is deeply rooted in the purpose Christ has placed within each of us. Mariah loves basking in the sweetness of the Savior with other chosen women of God. Mariah loves connecting and sharing her journey of life in Christ with others!
---
Also in Wheatful Woman Blog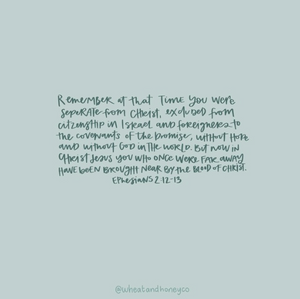 Mephibosheth, whose name means "shame", was the son of Jonathon and the grandson of King Saul. He was a crippled man living in a dry wasteland called Lo-Debar which means "no pastures." He was living there because when he was just 5 years old, news spread that his dad and granddad, Jonathan and Saul, were both killed. The remainder of Saul's family could only assume that with the new King David coming into power, they would all be killed off next, so they fled in fear to become exiles and ene...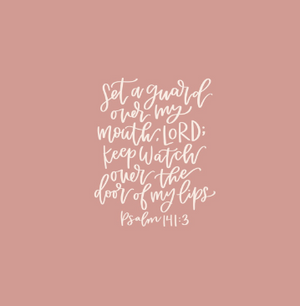 God, please forgive me when I have used hurtful or unnecessary words to gain a sense of control. Help me trust you to guard every word that comes out of my mouth.
We can find biblical hope for this struggle when we consider the story of the Israelites' exile in the Old Testament. The afflictions of the Israelites' exile were two-fold. On one hand, they were exiled because of their own sin, and on the other hand, their burdens were increased because of the sin of the nations oppressing them. I am certain that if I were an exiled Israelite, I would have been grumbling and throwing pity parties the majority of the time. How does God respond to them? Throu...