Spurred on in community - part 3 of 8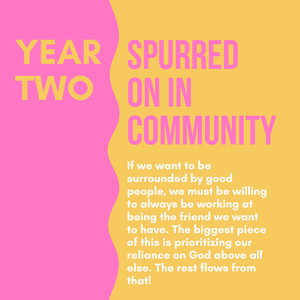 Psalm 81:16 ESV
But he would feed you with the finest of the wheat, and with honey from the rock I would satisfy you.
What was happening during year two:
We were building upon our business foundation of stationery products by adding illustrated home portraits and I was personally navigating committing to a church home for the first time, independent of my family church, and pursuing close community with other women.
How God showed us who He is:
God's vision for the world is not complete without companionship. We were created with the vision that we would be in close community with others. Relationships are far from simple but without healthy relationships, we miss out on all God has for us.
The two aspects of the God-honoring relationships that I'd like to sit in today are intimate God fearing friendship and our willingness to receive and pursue understanding of other life experiences.
God desires for each of us to have a close circle of friends that we allow to have influence over our lives. These are the relationships that we trust are near the Lord and we can come to, guard down, to walk closely with. These relationships hold us accountable to be more like Jesus and encourage us through God's truth. You know these friends when you see them because you feel your best when you're around these people. You feel safe around them and challenged by them.
The other God-honoring relationship that is imperative to know God more is the pursuit of relationships with individuals that have different life experiences from our own. This relationship may or may not be our closest circle but pursuit of closeness to people unlike us is something that is so easy to avoid but so important to know Jesus. God created us different for a reason and openness to the unfamiliar broadens our ability to love like Jesus loved us. Getting uncomfortable because we prioritize growth and Godly love makes God smile. It matters to Him.
During year two of this business, I naturally had space to navigate being in community as a single young adult. For the first time, I really began to learn the type of friend I wanted to be and the type of friend I wanted to have. Five years later, I'm still seeing the fruit from the roots planted during this time. Relationships take great effort but the good God-honoring ones are so worth it. In my experience, life is so much more fulfilling when we treasure the people God puts in our lives.
I'll close this post with a few tangible things I've learned about friendship.
Pray. Ask God to reveal to you the close people He has placed in your life that are trustworthy to walk closely with.

Be open minded and have your eyes open. Some of the greatest friendship blessings in my life are people that God put before me easily and when I didn't necessarily have an open mind to new friends. God places new people in our lives with strategic timing. He knows what we need, when we need it but our eyes and hearts must be open to it and ready to invest when He prompts us!

Be ready to release. The only thing that is unchanging is our relationship with God. Friendships look different in different seasons and that honors the Lord. Be prepared for seasons of closeness, seasons of distance and sometimes, a step back in particular friendships. God is faithful to provide intimacy in relationships in His way and in His time. Pray for eyes to see these changes as protection and opportunities to know Jesus more through the close relationships He has us in.

Pray for God to guide you in understanding of the place friendship should hold in your heart. Friendship is not meant to be a place of codependency. We get our fulfillment from God and our relationships get to be a place of God defined love in overflow.

Pay attention to the way your loved ones feel seen and loved by you. It's easy to love others in the way that makes us feel loved but it takes relationships to another level when we learn to understand our people and love them with the knowledge of what matters to them. Just because words of encouragement make you feel seen and known does not mean someone in your life shares that feeling. They may prefer quality time or acts of service, for example.
If we want to be surrounded by good people, we must be willing to always be working at being the friend we want to have. Relationships take effort and we should never become comfortable with a routine when it comes to the people in our lives. We should always be looking for ways to love deeper and more like Jesus. The biggest piece of this is prioritizing our reliance on God above all else. The rest flows from that!
"But seek first the kingdom of God and His righteousness, and all these things shall be added to you." – Matthew 6:33
---
Also in Wheatful Woman Blog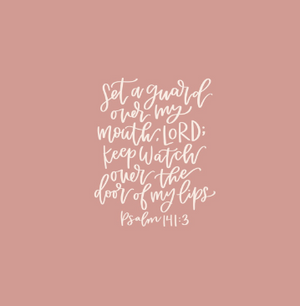 God, please forgive me when I have used hurtful or unnecessary words to gain a sense of control. Help me trust you to guard every word that comes out of my mouth.
We can find biblical hope for this struggle when we consider the story of the Israelites' exile in the Old Testament. The afflictions of the Israelites' exile were two-fold. On one hand, they were exiled because of their own sin, and on the other hand, their burdens were increased because of the sin of the nations oppressing them. I am certain that if I were an exiled Israelite, I would have been grumbling and throwing pity parties the majority of the time. How does God respond to them? Throu...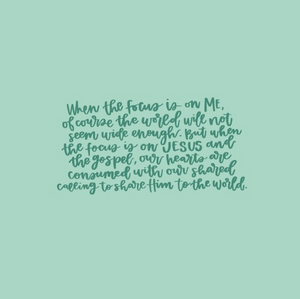 As Christians, the biggest problem with unhealthy comparison is that it misplaces our passion for building the Kingdom of God onto building our own kingdoms of self. Comparison strips us of seeing what God has given us and called us to.