Equipped for battle - part 4 of 8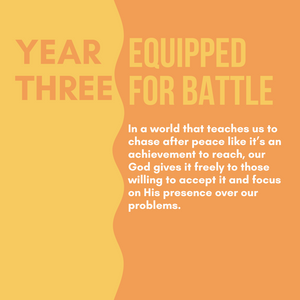 Psalm 81:16 ESV
But he would feed you with the finest of the wheat, and with honey from the rock I would satisfy you.
What was happening during year three:
Year three was the year God gave me a glimpse of the work He wanted to do through Wheat and Honey Co. I believe His timing is perfect and I was not ready to see this part of His plan until this time.
He showed me His desire for our shop to be faith-focused in a more tangible way through the hand painting of Bible covers and a weekly email devotional.

God showed me how special a hand painted Bible can be as our team (myself included) and our customers began to have encounters with God through the unique elements of a one-of-a-kind Bible. The texture of the paint and intimacy in the designs has given thousands of women encounters with the Lord in their quiet places with Him.

At the time an acquaintance from college (now a good friend of mine) reached out wanting to hear more about the business resulting in her authorship of our Wheatful Wednesday devotionals. These devotionals are emailed weekly to our email list and have been a force for the Kingdom. The stories of God's timing over hundreds of these devotionals has stopped our team in our tracks. Our faith is a beautiful mystery in that we get to walk near Him and believe He is using everything for His glory, including typed words emailed to our community.

God also prompted me to step back and pray about a ministry partner for a give-back initiative, which resulted in our partnership today with Freedom Shield Foundation. We have the great privilege of seeing God move through the gifting of our hand painted Bibles to their survivors of human trafficking.

The last major piece of year three was our first multi 5 dollar figure product purchase of Bibles, which was the largest financial leap of faith of the business. This risk not only proved to be profitable but opened doors for wholesale partnerships that are still active to this day and friendships through collaboration with female leaders of other ministries in their efforts to promote the new product launch. Both of which have been transformational in the business and a rich blessing to me personally.
God revealed Himself BOLDLY in this year. It was a trying year that required great faith but ultimately this year led me deeper in my understanding of who God is and how He loves us.
Personally, I got married this year and also overcame my first great health challenge when we discovered a benign tumor in my brain. It wasn't the simplest year of my life, that's for sure, but what a beautiful part of my story personally and for W&HC! Looking back on year three, I see how God gave me an opportunity to hold challenges alongside very tangible examples of His faithfulness. Glory to God!
How God showed us who He is:
Ephesians 2:18
For through him we both have access to the Father by one Spirit.
God loves us too much to give us His fullness at any less than 100%. He gives us free will. He allows us to be distracted. He allows us to feel fear and uncertainty. He also makes Himself endlessly available to us. We live distracted and fear is part of our reality, but Jesus.
In knowing Christ, we get access to the Holy Spirit. We have the same power of Jesus Christ within us that can cast out fear in Jesus name. We have the authority of Christ to declare protection over our minds and peace over any room we walk in because He is within us.
In the name of Jesus, we accept peace. In a world that teaches us to chase after peace like it's an achievement to reach, our God gives it freely to those willing to accept it and focus on His presence over our problems.
Through Jesus Christ, we have access to our God by the Holy Spirit. He is in the room and available, waiting for us to sit in His presence and accept His peace.
---
Also in Wheatful Woman Blog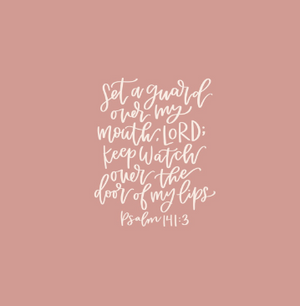 God, please forgive me when I have used hurtful or unnecessary words to gain a sense of control. Help me trust you to guard every word that comes out of my mouth.
We can find biblical hope for this struggle when we consider the story of the Israelites' exile in the Old Testament. The afflictions of the Israelites' exile were two-fold. On one hand, they were exiled because of their own sin, and on the other hand, their burdens were increased because of the sin of the nations oppressing them. I am certain that if I were an exiled Israelite, I would have been grumbling and throwing pity parties the majority of the time. How does God respond to them? Throu...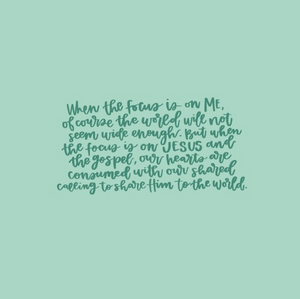 As Christians, the biggest problem with unhealthy comparison is that it misplaces our passion for building the Kingdom of God onto building our own kingdoms of self. Comparison strips us of seeing what God has given us and called us to.