Faces & Voices of our retreat guests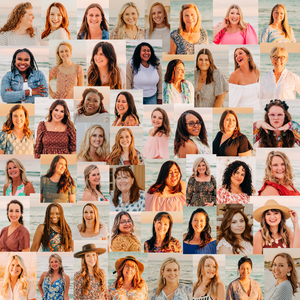 Have you ever been curious about our women's retreats in Seaside, FL? I thought it would be fun to compile photos of the women who have attended the last two years and share some of their experiences.
These ladies, the friendships and the joy you see on their faces, have brought me so much joy. When we started these retreats, I had no idea all that God intended to do through this space. Thank you, Father, for these women and their love for you! - Britt Goff
We are grateful to be hosting year 3 this Fall! Tickets available now. Click
here
for details!
Susan, 65, FL
"Attending the retreat gave me the opportunity to "be still" and gain clarity on where God is leading me to serve. I did not Know anyone going into the retreat and enjoyed meeting and getting to know Christian ladies and new friendships were formed that will last a lifetime."
Holly, 34, LA
"I know this retreat is something I will cherish forever! As an introvert, I was anxious about joining a group of unfamiliar women for an entire weekend - but this weekend proved to be far better than I could have expected. It is such a wonderful opportunity to be able to not only speak openly about struggles, fears, blessings and life but to also hear of others' experiences and receive encouragement from those who can relate. Even to receive encouragement and affirmations from those who may not relate was so uplifting! This group of women gave me an instant sense of "community" and were truly and simply just a bunch of fun! What a restful, encouraging, uplifting, and FUN weekend. Wonderful!"
Veronica, 38, TX
"After attending a Wheatful Woman Retreat in 2020, I thought this trip would be so out of reach, but God just knew the timing of it all and opening the doors to allow me to go this year. I went in not knowing what to expect, or expecting really to just go in, "do my thing", and leave without really making connections, but I left there completely changed! I not only felt like I had found my people, but God truly allowed me to step out of my comfort zone, and really find my voice, and my confidence in Him! I wasn't even home, and I was already inviting everyone I knew for next year! This retreat will truly change your life!"
Kathie, 36, TX
"A time to get out of my normalcy and have designated time to recharge and focus on my relationship with God."
Jaclyn, 36, VA
"This retreat was so special because it gave me a space with other women to feel vulnerable and safe to share but also receive encouragement and prayers with no fear of judgement. These women empower women and support each other's growth during their spiritual journey. I am forever grateful to Britt and her team for their dedication and hard work and also to the amazing women I had the pleasure of meeting and bonding with over this beautiful, loving, spiritual weekend."
Avery, 24, IN
"It helped me feel reset and rejuvenated. I spent time with the Lord, new friends, myself, and yummy food. It was perfect."
Freda, 51, TX
"A safe place for ALL to come and be a part of. A place to grow in the spirit, reconnect with the Father and create lasting relationships with other women. At the beginning, the woman may arrive as strangers but leave as family and sisters in Christ."
Julia, 32, TX
"I was terrified going into an unknown situation with a group of women that I didn't know. Friendships are hard as an adult and being vulnerable is scary. However everyone was so welcoming and gracious and best of all … different! Everyone comes from a different walk of life and what better way to learn from one another?! To be in an environment where we can talk about Jesus and share our experiences and see the vast amount of ways that He moves and works in our lives is nothing short of amazing. If you are like me and just naturally skeptical of being understood in a group of new people, I encourage you to JUST DO IT. Go. You will not regret it. The hosts are beautiful people with such sweet spirits and their obedience to take a leap when God asks is so admirable and encouraging. In short, just go."
Ali, 31, AL
"This retreat was a breath of fresh air. to come together as a group of 20-70 year olds and be able to make meaningful connections is something special. its the perfect balance between structure and fun. I came into the weekend feeling very empty, broken and far from God and I was able to see and feel His love for me in such a sweet tangible way. it truly was the biggest blessing to meet new people and two days later call them dear friends. forever grateful for this experience."
Haleigh, 30, TX
"Brittany has a heart for creating a space for women to connect, rest and be pointed towards the Lord. She has achieved that space with this weekend. From the moment you walk in the door, the hosting team is there to take care of you, so you don't have to think about what you need. It's all already there, with a smiling, friendly face. This retreat allowed me to take a break from the busyness and responsibilities of my life, renew my spirit with walks on the beach or a bike ride around town, connect with women I wouldn't have met, and ultimately take a relaxing breath."
Vanessa, 51, MI
"I was well taken care of and didn't need to concern myself with anything."
Sarah, 32, TX
"This trip was the sweetest gift from the Lord. I wouldn't have been able to come if it wasn't for the giveaway. I felt like I was supposed to enter which was strange because I wasn't even considering going on this trip but He knew better. He wanted me there because He wanted to care for me so intentionally through it. He knew I needed rest, community and time with Him. So thankful for this time. Go on this trip!"
Sonia, 45, FL
"During worship, it was so powerful personally having a beautiful encounter with God and listening to him was supernatural. Another beautiful moment was our last night when we were together sharing words of encouragement to each other's. The love of God was so tangible. Everything was perfect!"

Tambra, 51, TX
"Reminded me to be still and always make time for God no matter how busy life gets. Reminded me to keep connected with my sisters for renewal of spirit and reminder for living a purposeful life that is rooted in God's grace."
Meredith, 32, TX
"This retreat allowed me to connect with a community of women from all walks of life and during our time together I was encouraged and blessed by each of their journeys. Britt and the W&HC team once again created an environment for me to slow down and make room for God to be present and work through each of us. I left feeling lighter and expectant of what God has in store."
Debra, 70, FL
"The Holy Spirit directed me to this Seaside Women's Retreat. I was blessed to share with my daughter, sister and her daughter. A dozen women (wide range of age) open to God's Love for us and others, Live Worship/Praise music, Sunrise Beach service, private Chef Molly and professional photographer, Samantha with host team from Wheat and Honey Co headed by precious Brittany. Thankful and Grateful🦋"
Amanda, 31, TX
"This trip is the ultimate "me time". I can focus solely on my own rest, relaxation and growth without the outside stresses of work, family, friends, or just life in general. After going two years and meeting two different groups of women, I'm so thankful for each person and what they brought. From the friends who came together to the girls who didn't know anyone, everyone left with a sense of growth, better self understanding and plenty of new friends from across the country! This retreat creates a space for women of all ages, all backgrounds, and all life stages to be their authentic, God-created best selves and be encouraged by other women walking similar paths or with similar desires for their lives. All while exploring one of the best destinations!"
Hannah, 33, TX
"A beautiful blend of welcoming community, restorative rest, meaningful conversations, & worship. From the incredible food to the thoughtful touches in decor ~ every detail is intentional. I am so filled, so humbled, & so grateful to be a part of this weekend. Would absolutely recommend for any woman looking for soul rest & retreat. Jesus is so kind!"
---
Also in Wheatful Woman Blog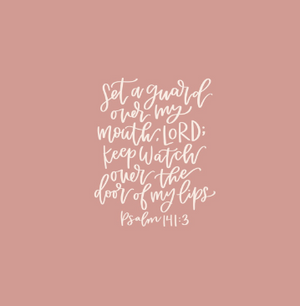 God, please forgive me when I have used hurtful or unnecessary words to gain a sense of control. Help me trust you to guard every word that comes out of my mouth.
We can find biblical hope for this struggle when we consider the story of the Israelites' exile in the Old Testament. The afflictions of the Israelites' exile were two-fold. On one hand, they were exiled because of their own sin, and on the other hand, their burdens were increased because of the sin of the nations oppressing them. I am certain that if I were an exiled Israelite, I would have been grumbling and throwing pity parties the majority of the time. How does God respond to them? Throu...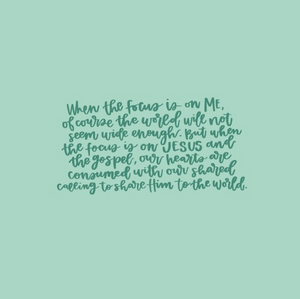 As Christians, the biggest problem with unhealthy comparison is that it misplaces our passion for building the Kingdom of God onto building our own kingdoms of self. Comparison strips us of seeing what God has given us and called us to.