Season of Sowing: Wait + Anticipate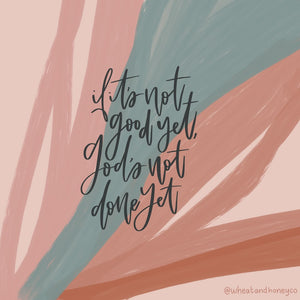 SEASON OF SOWING:
WAIT + ANTICIPATE
"I planted the seed...but God has been making it grow" 1 Corinthians 3:6 NIV

When we've done all that we've been called to do in our season of sowing, the final most important step is to watch God work while we wait. 

God is growing each and every seed you've planted. The storms and droughts we experience in life can't cancel out the harvest God has planned for us in His perfect time. 

One of the most powerful sayings a mentor once shared with me is, "if it's not good yet, God's not done yet."

"And we know that in all things God works for the good of those who love him, who have been called according to his purpose." Romans 8:28 NIV

Eagerly anticipate and with hopeful expectation believe God is working something in His will for our greater good.

Maybe our harvest doesn't end up looking as we thought or planned, but never underestimate the most powerful harvest we may reap is the beautiful growth God has done within. 

Thank you Jesus. Yes + Amen.

#wheatfulwednesday #seasonofsowing  @rhiannamarie24
 
Rhianna Marie Nix is the author of "Faithfully Fervent: Standing Firm as a Woman of God in a World Ready to Run". Rhianna is a pediatric registered nurse and is passionately following her calling into ministry by radically pursuing her mission to mirror God's vision. Her mission is to help bring hope and healing through her testimony. She will fiercely fight to empower people to know Christ and believe in His incomparable power to transform and save.

@rhiannamarie24  @faithfullyfervent
faithfullyfervent.com
Photography by Ashia Mosley Photography
---
Also in Wheatful Woman Blog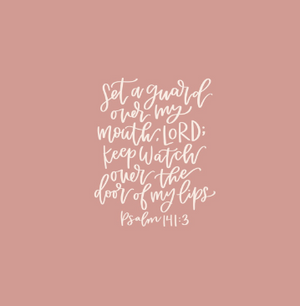 God, please forgive me when I have used hurtful or unnecessary words to gain a sense of control. Help me trust you to guard every word that comes out of my mouth.
We can find biblical hope for this struggle when we consider the story of the Israelites' exile in the Old Testament. The afflictions of the Israelites' exile were two-fold. On one hand, they were exiled because of their own sin, and on the other hand, their burdens were increased because of the sin of the nations oppressing them. I am certain that if I were an exiled Israelite, I would have been grumbling and throwing pity parties the majority of the time. How does God respond to them? Throu...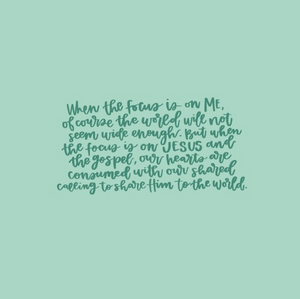 As Christians, the biggest problem with unhealthy comparison is that it misplaces our passion for building the Kingdom of God onto building our own kingdoms of self. Comparison strips us of seeing what God has given us and called us to.