Relationship over Religion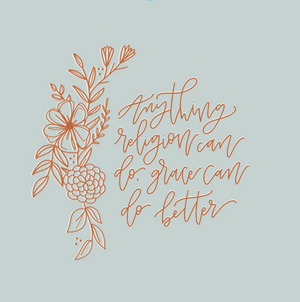 Relationship over Religion
I do not set aside the grace of God, for if righteousness comes through the law, then Christ died for nothing. Galatians 2:21 

I'd love to start off this devotional by asking you a question: What can you do in order for God to love you today?

I wish we were sitting together at a coffee shop so I can see your face and hear your answer. And regardless of what you whispered or wrote down, I am here to tell you that there is nothing you can do today to make God love you more or less than He does. This is good news!! 

Friends, it is never and will never be about what we can do for Jesus; the focus is on what He did for us on the cross. He doesn't want our actions, He wants our hearts. More good news is that Jesus knows us fully and deeply and loves us more than we can comprehend. 

He is so acquainted with the details of our lives and longs to be in a relationship with us. He sits outside the door to our hearts, patiently waiting for us to let Him in. He doesn't need us to clean up or tidy all of the rooms, He just wants us to come as we are and sit with Him. We can walk in the grace that He gives freely, knowing that He will never forsake us. 
Kristen Meyer Schumacher is a marketing professional, a lover of writing, and an avid volunteer in her local community. Her passion and heart are to help women thrive in their God-given callings and unique gifts. In her free time, she blogs about embracing the everyday challenges of life while finding freedom in truly existing fully in your own skin. You can also find her spending time with her husband, William, and chasing around a very hyper and cute golden retriever named Brody. You can read more on her blog at Existingfully.com.
---
Also in Wheatful Woman Blog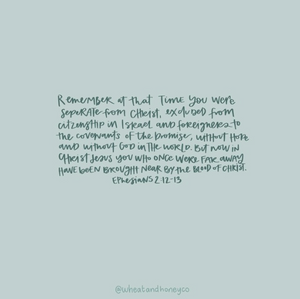 Mephibosheth, whose name means "shame", was the son of Jonathon and the grandson of King Saul. He was a crippled man living in a dry wasteland called Lo-Debar which means "no pastures." He was living there because when he was just 5 years old, news spread that his dad and granddad, Jonathan and Saul, were both killed. The remainder of Saul's family could only assume that with the new King David coming into power, they would all be killed off next, so they fled in fear to become exiles and ene...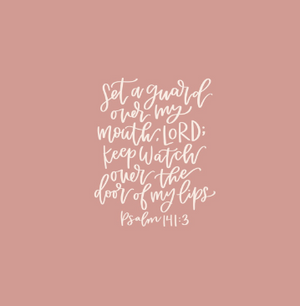 God, please forgive me when I have used hurtful or unnecessary words to gain a sense of control. Help me trust you to guard every word that comes out of my mouth.
We can find biblical hope for this struggle when we consider the story of the Israelites' exile in the Old Testament. The afflictions of the Israelites' exile were two-fold. On one hand, they were exiled because of their own sin, and on the other hand, their burdens were increased because of the sin of the nations oppressing them. I am certain that if I were an exiled Israelite, I would have been grumbling and throwing pity parties the majority of the time. How does God respond to them? Throu...