Hand Lettering Tips and Tricks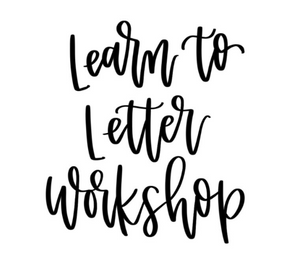 Lettering Tips & Tricks
Hello there, Madison here!
I was blessed with the opportunity to be Wheat & Honey Co.'s 2020 Summer Intern and I led the "Learn to Letter" workshop this past month. You can check out my blog of my amazing experiences here.
I am so excited to share with you my tips for Hand-lettering! Be sure to check out our recorded instruction and downloadable guide here.
I began lettering when I was in 8th grade (!!!), five years ago! Through lots of practice and teaching myself, I got to where I am today. Lettering is such an amazing way to share your faith and encouragement with your family and friends. From addressing invites, to making beautiful signs, lettering is an amazing skill that can allow you to do many things. 
Now, for my biggest piece of advice: Take your time and be patient. Lettering is more of an 'art', rather than a different way to write. This new skill will need lots of practice and patience. 
You can check out my first pieces to see how much practice helped me below! I am confident soon you will be proud of your lettering skills.
Now for my three main tips for lettering: 
Bold thick downstrokes + light thin upstrokes

Practice this on the Basics page of our downloadable worksheet.

Tilt your pen for the thick downstrokes instead of just pressing down hard. For the light thin upstrokes barely press down to get a thin line.

This is a hard skill! Practice Practice Practice!
Pick up pen in between strokes
Practice this on the Lowercase + Uppercase page of our downloadable worksheet. 

Practice this with the letters (i.e. the letter "b" you will do the first loop and brush stroke down. and then pick up your pen and readjust before making the curve and loop to finish) Check out the picture 'A' at the end of this post for a visual of this tip.

This goes back to taking your time with lettering and that it is an art. Be patient.
Practice this on the Practice Words page of our downloadable worksheet.

The bottom of your letters vary on the line to give a "bounce" effect.

Check out the picture 'B' at the end of this post for a visual of this tip.
Tips for creating a piece of lettering art:
Add Embellishments

There is a page in the guide to see examples of embellishments and you can trace them for practice. Ex. banners, florals and greenery

Embellishments transform your few words of lettering into a beautiful piece of art.

Pair lettering with capital block letters

Ex. "HAPPY" in all capital block letters looks great "birthday" written in fancy lettering

Check out the picture 'C' at the end of this post for a visual of this tip.
Final tip: Practice, Practice, Practice!

You got this! Share your pictures with #wheatandhoneyco or #wheatandhoneycoworkshops so we can see your creations!
Lettering pens can be found here.
Our online workshop and lettering kit with everything you need to be successful can be found here. 
Picture 'A':
Picture 'B':
Picture 'C':
Madison Wright
---
Also in Wheatful Woman Blog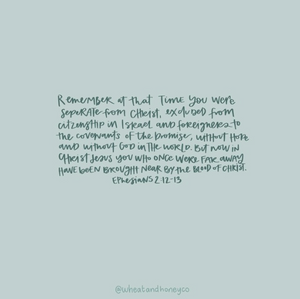 Mephibosheth, whose name means "shame", was the son of Jonathon and the grandson of King Saul. He was a crippled man living in a dry wasteland called Lo-Debar which means "no pastures." He was living there because when he was just 5 years old, news spread that his dad and granddad, Jonathan and Saul, were both killed. The remainder of Saul's family could only assume that with the new King David coming into power, they would all be killed off next, so they fled in fear to become exiles and ene...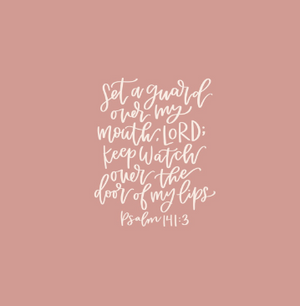 God, please forgive me when I have used hurtful or unnecessary words to gain a sense of control. Help me trust you to guard every word that comes out of my mouth.
We can find biblical hope for this struggle when we consider the story of the Israelites' exile in the Old Testament. The afflictions of the Israelites' exile were two-fold. On one hand, they were exiled because of their own sin, and on the other hand, their burdens were increased because of the sin of the nations oppressing them. I am certain that if I were an exiled Israelite, I would have been grumbling and throwing pity parties the majority of the time. How does God respond to them? Throu...