Feeling disqualified because of your age?
Today's Wheatful Wednesday devotional is an excerpt from our brand new Distracted: 40 Days to Know God More & Live Freed Devotional. In this new tool, we address lies of the world and confront them with the truth of God.
---
First Thoughts:
Lie of the world: We disqualify ourselves from being used by God because we believe the lie that we are too old (it's too late) or too young (my lack of experience or credibility prevents me from taking action) for the mission.

Truth of God: You are equipped by God for the mission He has you on, and any thoughts that your "age" are holding you back are lies from the evil one and an opportunity for His glory to be on display.

Devotional:
But you are a chosen race, a royal priesthood, a holy nation, a people for his own possession, that you may proclaim the excellencies of him who called you out of darkness into his marvelous light. 1 Peter 2:9 ESV

Imagine having a focus so intentionally fixated on God's voice over your life that you forget to run your life through the filter of qualification. Imagine entering eternity and being called "the one who heard God's calling and responded" without a spiral of overthinking or qualification analysis. There is something He has asked you to do today for your good and His glory, and it doesn't matter what number of years is associated with your being. You are made in His image, equipped to bravely shine light in darkness.
Prayer / Application:
Father, we receive the truth that we are a chosen people, equipped in your strength, to push back the gates of hell and share your truth today. Help us to think less about our age and what we perceive others might think of us and to consider more the way you're leading us today. We want to be people that hear you and respond to what you call us to. Help us to do that today, Lord. Amen.

Spend a moment listening to God today with the intention of responding.
Grab your "Distracted" Devotional here.
---
Also in Wheatful Woman Blog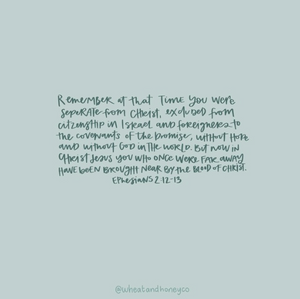 Mephibosheth, whose name means "shame", was the son of Jonathon and the grandson of King Saul. He was a crippled man living in a dry wasteland called Lo-Debar which means "no pastures." He was living there because when he was just 5 years old, news spread that his dad and granddad, Jonathan and Saul, were both killed. The remainder of Saul's family could only assume that with the new King David coming into power, they would all be killed off next, so they fled in fear to become exiles and ene...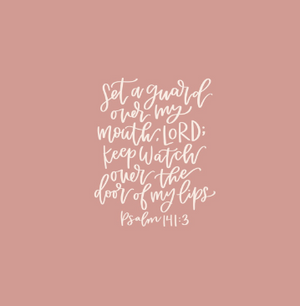 God, please forgive me when I have used hurtful or unnecessary words to gain a sense of control. Help me trust you to guard every word that comes out of my mouth.
We can find biblical hope for this struggle when we consider the story of the Israelites' exile in the Old Testament. The afflictions of the Israelites' exile were two-fold. On one hand, they were exiled because of their own sin, and on the other hand, their burdens were increased because of the sin of the nations oppressing them. I am certain that if I were an exiled Israelite, I would have been grumbling and throwing pity parties the majority of the time. How does God respond to them? Throu...