Walking in faith is not comfortable; it's holy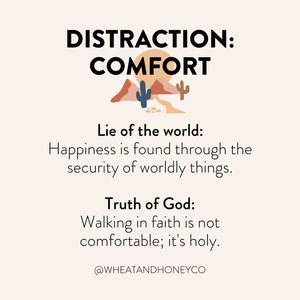 Today's Wheatful Wednesday devotional is an excerpt from our brand new Distracted: 40 Days to Know God More & Live Freed Devotional. In this new tool, we address lies of the world and confront them with the truth of God.
---

Distraction: Comfort
 
First Thoughts:
Lie of the world: Happiness is found through the security of worldly things.
Truth of God: Walking in faith is not comfortable; it's holy.

Devotional:
Living in faith in our fallen world is uncomfortable, and that discomfort is the input to the output of holiness. Instead of pursuing comfort, let's pursue peace. God has a life of peace for you that is far more fulfilling than the "happiness" our flesh so quickly pursues in the idea of comfort.
God wants to be our refuge, to renew us day-by-day in the shadow of His wings so we can continue our pursuit of Christ-likeness.
This idea of a comfortable life plays on our deep desire for rest in God and living in peace. A comfortable life is not the goal. A holy one is.
"for you have been my help, and in the shadow of your wings I will sing for joy." Psalm 63:7 ESV
Prayer / Application:
My God, I want to burn with passion for you. Give me eyes to see the good Father that you are, the Faithful protector of my soul. I want to be a vessel for the Kingdom today that stands for light in darkness because I have your peace and the renewal that comes from resting in the shadow of your wings. I praise you today, God, for this rest and peace you freely give. Amen.
Do you understand the difference between comfort and peace? Talk to God about it today.
Click here to grab your Distracted Devotional.
---
Also in Wheatful Woman Blog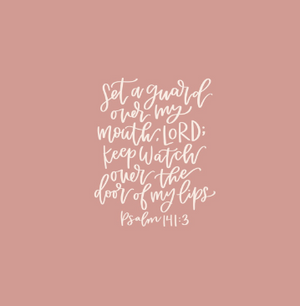 God, please forgive me when I have used hurtful or unnecessary words to gain a sense of control. Help me trust you to guard every word that comes out of my mouth.
We can find biblical hope for this struggle when we consider the story of the Israelites' exile in the Old Testament. The afflictions of the Israelites' exile were two-fold. On one hand, they were exiled because of their own sin, and on the other hand, their burdens were increased because of the sin of the nations oppressing them. I am certain that if I were an exiled Israelite, I would have been grumbling and throwing pity parties the majority of the time. How does God respond to them? Throu...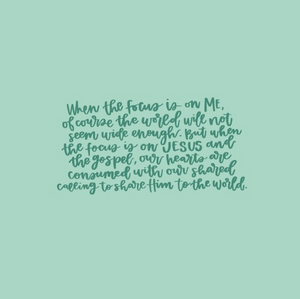 As Christians, the biggest problem with unhealthy comparison is that it misplaces our passion for building the Kingdom of God onto building our own kingdoms of self. Comparison strips us of seeing what God has given us and called us to.