Celebrating our 7th birthday with glimpses of Heaven - 1 of 8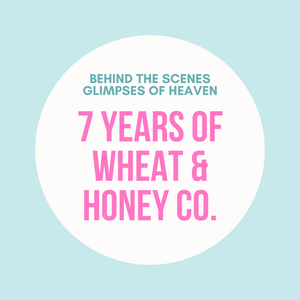 We are excited to be celebrating 7 years of Wheat & Honey Co. with you.
We believe and have seen God move through this ministry over the years and want to pause during this birthday milestone to celebrate and praise God for a few of the glimpses of heaven He has given our community over the years.
This week, we will be releasing 8 blog posts and 8 podcast episodes. The first will be an introduction to our vision here at W&HC and a look behind the scenes. The following 7 posts and episodes will be unique to each year of this ministry and, particularly, how God has moved through our founding verse; Psalm 81:16.
Psalm 81:16 ESVBut he would feed you with the finest of the wheat, and with honey from the rock I would satisfy you.
My name is Brittany Goff and I'm the founder of W&HC. I am 32 years old, have been married to my handsome husband, Michael, celebrating 5 years this week, we have a 3.5 year old golden retriever, Tucker, and just welcomed our first precious baby boy, Hudson, in February. Michael and I feel most alive in Jesus when we spend time in community, learning more about life experiences, from other people, that are different from our own. Michael and I were dating when God gave me the vision of this ministry, which is such a gift to me to have my husband along on the journey from the beginning. Michael has been my biggest cheerleader over the years and the first person I call for a sounding board when making big business decisions. His walk with Christ has spurred on my belief and confidence in God's call for this space.
In short, I have personally walked through seasons of singleness, dating, pursuit of community with other women, marriage, health challenges, entrepreneurship and taking the leap to full time business ownership, Covid, infertility, miscarriage and pregnancy (to name a few of the big ones) over the last 7 years. At the end of each year of this business, I sit with the Lord in themes He has walked me through personally and through what He is doing in this ministry. I always reflect back on our founding verse and find new meaning and truth behind its words.
| | |
| --- | --- |
| Year 1 - 2016 | The word is truth |
| Year 2 - 2017 | Spurred on in community |
| Year 3 - 2018 | Equipped for battle |
| Year 4 - 2019 | He is trustworthy |
| Year 5 - 2020 | Refined by interruption |
| Year 6 - 2021 | Big dreams bring Jesus glory |
| Year 7 - 2022 | Obedience never leaves us empty |
Join us this week as we sit with God in seeking and praise for how He loves us!
To God be the glory! - Britt
---
Also in Wheatful Woman Blog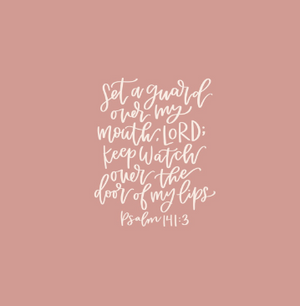 God, please forgive me when I have used hurtful or unnecessary words to gain a sense of control. Help me trust you to guard every word that comes out of my mouth.
We can find biblical hope for this struggle when we consider the story of the Israelites' exile in the Old Testament. The afflictions of the Israelites' exile were two-fold. On one hand, they were exiled because of their own sin, and on the other hand, their burdens were increased because of the sin of the nations oppressing them. I am certain that if I were an exiled Israelite, I would have been grumbling and throwing pity parties the majority of the time. How does God respond to them? Throu...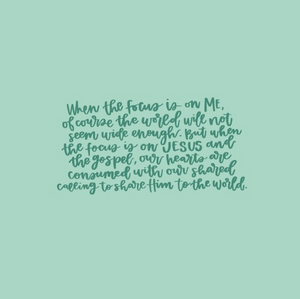 As Christians, the biggest problem with unhealthy comparison is that it misplaces our passion for building the Kingdom of God onto building our own kingdoms of self. Comparison strips us of seeing what God has given us and called us to.