Wheatful Woman 30A Seaside, FL Faith Retreat for Women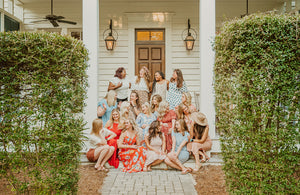 Words keep falling short as I attempt to recap our first Wheatful Woman weekend retreat in Seaside, FL.  The women that walked through the doors of our weekend haven home were nothing short of fabulous, brave and beautiful on the inside and out. We all came with a deeply rooted strength but WORN OUT from all the tugs of the world. The vision of this weekend was nowhere near the reality of the friendships we found. The women were wildly inclusive, kind, ready for rest, hilarious and so brave. We shared stories and quiet moments to fill our cups and find a new foothold of peace.
I'm grateful for the women that said yes to this weekend and for the ease of being together with women that started as strangers and quickly became friends. We enjoyed delicious food prepared by our Chef Molly (
@chefmolly850
), gorgeous photos of our new friends captured perfectly by Samantha Bailey (
Wanderlust Memories
) and the lovely space we called home through
Sanders Beach Rentals
.
I am deeply grateful for the brands we love that sent all kinds of goodies to shower our ladies with throughout the weekend.
Topo Chico
,
Hint
,
Val Marie Paper
,
Brene Brown
,
Dr. Caroline Leaf
,
Jessica Honegger
,
Lisa TerKeurst
,
Priscilla Shirer
,
Lisa Whittle
,
Liz Bohannon
,
Melissa Horvath
,
Max Lucado
,
Ruth Chou Simons
,
Sweet Water Decor
,
Healthy Eating On The Go
,
Liquid IV
,
Landon Winery
,
Alabaster Co.
,
Poo~Pourri
,
Winton and Waits
,
Bridget Linstead Art
,
House of Tesla
, and more.
I thought it would be fun to share a few of my personal favorite moments from the weekend:
Our first two guests arrived (Keisha and De'Ebony) as I walked down the stairs from placing the final goodie bag in a guest bedroom and the energy immediately filled the home as we excitedly greeted one another and went from Instagram to real-life friends. It still blows me away when God brings people in our lives from the internet.
We started our first morning together with craft coffee and a yummy brunch by our chef followed by prayer, worship and a devotional. Before getting started, we welcomed each guest to introduce herself. It was so humbling to sit and listen as each guest shared not only her name and where she was from, but also a bit about her story and what she hoped to experience during our weekend together. It was such a safe and exciting space to share.
Breakout sessions after our morning devotional time watching groups of 2-4 find quiet corners of the home on patios and beds to chat about our theme of "peace being trust in action". The confidence and comfortability with one another was like nothing I've ever seen.
Passing groups of y'all shopping on 30A, trying on hats and pajamas at the Cabana shops, trying new food at the food trucks and sipping coffee overlooking the waves.

Sunset beach photos where such a sweet moment watching these ladies feel beautiful as they hugged on new friends and ran into the waves. It was such a gift to watch these ladies feel so beautiful and celebrated.

The moment we walked back into the home from beach photos, walked down the entry hallway and found the home to be full of music and all the delicious aromas of our dinner by Chef Molly. The anticipation was REAL as we returned to the set table and chef applying final touches to our dinner.

Sunrise worship with y'all on the beach. No elaboration needed for this one. It was a sweet moment of stillness and prayer with these sweet souls.
The last one I'm going to share is when one of these ladies pulled me to the side and asked if we could take a walk on the beach, just the two of us. We strolled and she spoke life over me. Her confidence in hearing from the Lord, encouraging women around her to be FREE and declare God's promises as a guarantee, not just a "hope" was so life-giving to me. You know who you are. I'm grateful for you, sister.
It was a special, special weekend with ladies I'm grateful to know. Thank you, each of you, for showing up and making this space what it was. My heart is full and I cannot wait to do it again soon!
- Britt Goff
Words from our guests:
The Wheatful Woman Seaside 30A retreat was the most amazing trip I've ever been on. The execution was very thought out and intentional. What I loved most was how welcoming and accommodating the Wheat&HoneyCo staff members were. The itinerary was carefully thought out and gave great space for rest and refreshing. The schedule didn't feel packed or rushed. Brittany did an amazing job with allowing the presence of God to have his way all while staying on schedule. The house was Astounding. The chef was exquisite and the photographer was impeccable. This trip is one of the best ones I've been on and I made beautiful memories with complete strangers turned to friends that I will forever treasure and never forget! - De'Ebony

The Wheatful Women's Retreat was exactly that - a treat again and again and again. 20 strangers were invited to show up and be loved without even knowing everyone's name. We were given permission to feel, to share, to quiet, and be still as well as run, bike, soak up the sun, and adventure as big as we wanted. I left feeling content and rested, knowing my soul had 19 more sisters to look forward to meeting again someday. My soul (and body #ChefMolly) were fed to His kind of abundant fullness! The hosts were wildly attentive to the details of the schedule, the individuals they had invited, and the seamlessness of the weekend. They felt like they were one of the gals while entrusting the logistics to their prayerful preparation. Thank you, Britt, Mary Beth, and Halley! - Lyndan
I have never attended a woman's retreat before, therefore I did not know what to expect, but it far exceeded my expectations! Our three hosts were welcoming and inviting. I couldn't have asked for a better group of ladies that truly made you feel welcomed, accepted, seen and heard with zero judgment. We walked into this beautiful house as strangers and left as friends and sisters in Christ! I highly recommend this retreat, I felt rested and recharged, not only in body and mind but in spirit as well! Taking a pause and soaking in the sun by the beach just does something to your soul that restores you completely. You really come back on a beautiful high of emotions knowing you've created lifelong friendships and empowered by the Holy Spirit to strengthen your walk with our Lord! Seaside is the perfect getaway to pause to rest to recharge and restore all your senses! - Diana
---
Also in Wheatful Woman Blog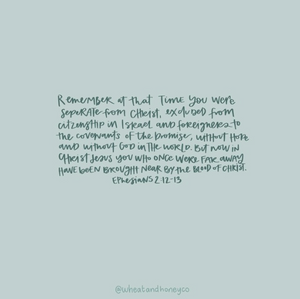 Mephibosheth, whose name means "shame", was the son of Jonathon and the grandson of King Saul. He was a crippled man living in a dry wasteland called Lo-Debar which means "no pastures." He was living there because when he was just 5 years old, news spread that his dad and granddad, Jonathan and Saul, were both killed. The remainder of Saul's family could only assume that with the new King David coming into power, they would all be killed off next, so they fled in fear to become exiles and ene...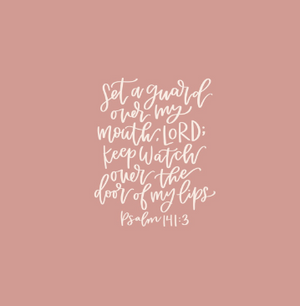 God, please forgive me when I have used hurtful or unnecessary words to gain a sense of control. Help me trust you to guard every word that comes out of my mouth.
We can find biblical hope for this struggle when we consider the story of the Israelites' exile in the Old Testament. The afflictions of the Israelites' exile were two-fold. On one hand, they were exiled because of their own sin, and on the other hand, their burdens were increased because of the sin of the nations oppressing them. I am certain that if I were an exiled Israelite, I would have been grumbling and throwing pity parties the majority of the time. How does God respond to them? Throu...