Read This Before You Set Faith Goals in 2019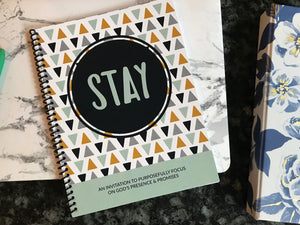 I have been crucified with Christ. It is no longer I who live, but Christ who lives in me. And the life I now live in the flesh I live by faith in the Son of God, who loved me and gave himself for me. - Galatians 2:20

Is one of your goals for 2019 to grow closer to God? Most of the women in our community would probably agree that cultivating a relationship with the Lord is high on their priority list for the new year. And with good reason! As Christians, we are called to glorify Christ with our lives and to do that we have to be connected to Him.

With that said, if you're wanting to grow closer to Christ this year, why is that? In order to be successful with our goals, we have to get down to the "why" behind them because our why can dictate what we do, and how we do things.

Did you know if the "why" of your goal is based on something negative, there's a higher chance that you won't meet it? For example, if your health goal is to "lose" weight because you don't like the way you look, you're setting a negative goal which means your motivation has a negative connotation. Your mindset is already negative from the start! However, if your goal is to gain endurance and strength (run a 5k, do 20 consecutive pushups) you're more likely to stick with them and be successful with your goals in the long run. Your mindset is positive and focused on a positive outcome.

Are you wanting to improve your faith walk based on a negative why or a positive why? For years I wanted to grow closer to Christ, but my motivation was off. My "why" behind wanting to spend time with Jesus or live a Godly life wasn't because I was wanting to praise Him for the gift of my salvation. I wasn't solely desiring a closer connection to live more in alignment with Him because of what He did for me on the cross (positive motivation.) I was setting goals to improve my faith strictly out of fear of what others thought and the desire to be more "religious." I wanted to LOSE my bad habits and old ways so I could measure up as a Christian (negative motivation.) As you can imagine, I always found myself falling short and slipping up. My why was off! Can you relate, sister?

As Christians, we always have a reason to have a positive "why" in our goals to have a close relationship with Christ. He loves us unconditionally. He died for us on the cross and forgave us of our transgressions, knowing every sin we already have and will commit in our lives. He gives us new mercies every single morning and moment. He longs to spend time with us so He can fill us with His peace, strength, and wisdom. Our motivation for wanting stronger faith can be rooted in our praise and thanksgiving for who God is, and what He's done for us!

Challenge: If one of your goals is to grow closer to Christ, evaluate your why. Is it positive or negative? Share with us in the comments below. 
With love,
Jantzen
---
Also in Wheatful Woman Blog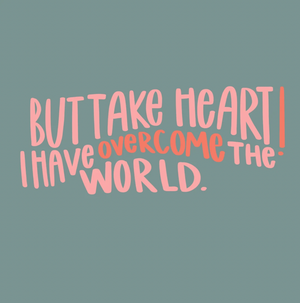 Lord Jesus, we thank you that you are never surprised by the flames thrown into our lives. We praise you that though they may surround us you never forsake us, and we have the gift of unexplainable peace. Be with my sisters undergoing fire. Holy Spirit I ask you would move mightily and bring your presence near so she can find comfort in you. We place our trust in you. Amen.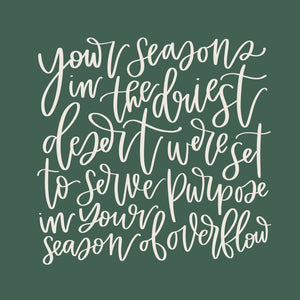 There is great power behind The Lord pouring into our lives abundantly more than we could hope or imagine. It's in the overflow. According to Merriam Webster, overflow can be defined as, "to fill a space to capacity and spread beyond its limits". All of us are limited to the extent of action or changes we can make alone. But we have a limitless God who has the power to move and flood the open spaces for His glory to reign. We have opportunity to overflow into the lives of others when we're fi...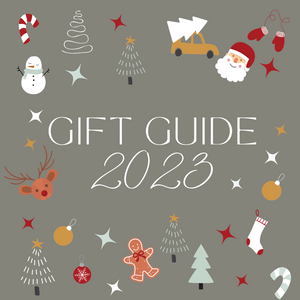 Gift guide to encourage the believer!