Peace, Adventure & Good People!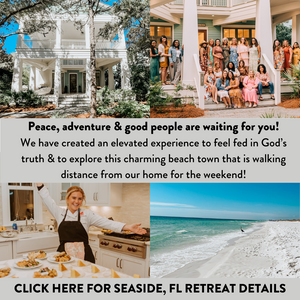 The experience begins the moment you commit to this weekend for you.

God does something in the months leading up to our time together.

He meets us in our commitment to spend intimate and intentional time with Him.

We look forward to this unforgettable time of refresh with you!
Who are these weekends created for?
Women craving a fun atmosphere to meet other women who love Jesus and enjoy a beautiful destination - Seaside, FL!
Where is Seaside, FL?
Seaside is a beach town in the Florida panhandle. Some women road trip and others fly into local airports (ECP & VPS).

What is your favorite part of these weekends as the founder?
We pray, a lot, over these weekends and we see God show up. We are intentional with the details and pray we wouldn't miss a thing that matters to our Father. I have seen and believe God will show up in all the ways I never knew to ask Him to. These weekends are truly special!
What are the ages of your guests?
We host women of all ages. Past guests range in age from low 20 somethings to mid 70s!
Do women come alone or with familiar faces?
We have an even split year-over-year of women that travel solo or with a friend / family member. We see mother-daughter, sister and best friends travel together. We also see the adventurous women in our community travel alone. For women who travel alone, they do not feel like they did for long because we quickly become one big friend group! Our retreats have a reputation for creating a quick space of inclusivity. We all come together desiring friendship, rest, time with Jesus and adventure in the most gorgeous 30A beach town!
What is the theme of the weekend?
Mended - we are believing God is going to show up with a "refresh" unique to each of us.

What can I expect?
The perfect balance of structured time to get to know the other women and time to explore or be on your own! We will have private chef meals, small group time, worship, devotionals, sunset beach photos, and more at the home while also leaving time in the schedule for you to walk just steps into town, to the beach and more!
---
Also in Wheatful Woman Blog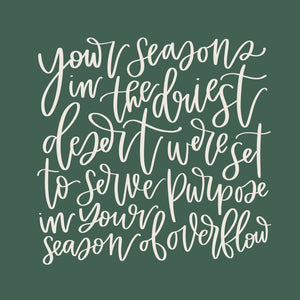 There is great power behind The Lord pouring into our lives abundantly more than we could hope or imagine. It's in the overflow. According to Merriam Webster, overflow can be defined as, "to fill a space to capacity and spread beyond its limits". All of us are limited to the extent of action or changes we can make alone. But we have a limitless God who has the power to move and flood the open spaces for His glory to reign. We have opportunity to overflow into the lives of others when we're fi...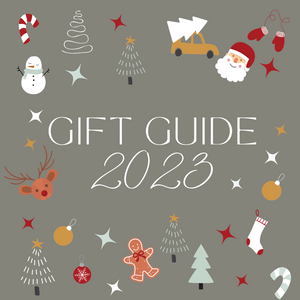 Gift guide to encourage the believer!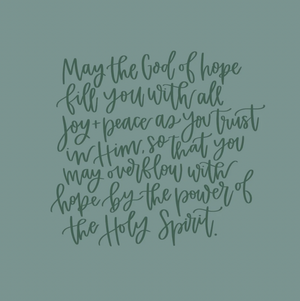 We have a beautiful promise from Jesus that He will fill us back up and refresh our spirit by giving us peace and joy. First, we're instructed to take action by trusting and remaining open so He can flow in. What does it look like to have Jesus meet you where you're at to show up and refill you back up?