God used rest to show my stubborn heart that He's in charge
"Remember the Sabbath day, to keep it holy. Six days you shall labor, and do all your work, but the seventh day is a Sabbath to the Lord your God… For in six days the Lord made heaven and earth, the sea, and all that is in them, and rested on the seventh day. Therefore the Lord blessed the Sabbath day and made it holy." - Exodus 20:8-11
OPENING PRAYER
Lord, as we read this devotional and enter this day would you help us to recognize just how important it is to rest in your presence? Remind us that time spent with you is the best investment we can make and you can do more in minutes than we could accomplish in days. Even further, would you help us to be grateful that we serve a God who actively encourages us to slow down and recharge for our journeys ahead? What a joy it is to be fully known by a God who loves and cares for us. In Jesus' name, Amen.
As some of you know, I recently made a shift to entrepreneurship. While I believe the Lord called me to leave my safe, secure, full-time job to pursue the career dreams on my heart, I also recognize that He is using this season of work flexibility for me to prioritize relationships and help others. In the last month, I've had the joy of being a leader for a women's Bible study at church, have gotten to serve or connect with neighbors and friends in the middle of the day, and have been able to show up and help close family members in their time of need, all things I never would have been able to do if I were working in an office.
However, with the new schedule means a change in my normal work-time routine. Because I've been more flexible with my schedule, I've felt the guilt to work nights and weekends to catch up on all the lost productivity. (As an enneagram 3, leaving to-do lists unchecked is about as painful as removing a tooth without the good meds.)
So, a few weeks ago, when I felt the guilt to work on a Sunday after not getting enough work done on Saturday, I was shocked when I heard God say "Nope. You're going to rest today. You haven't taken a Sabbath this week."
UMMM excuse me, God! Didn't you see my planner full of things to complete? I have to get it done so I can start my week off right!
His gentle answer to my bossy rebuttal was something like this: "Doing what I call you to do, even if that's rest, is the best investment you can make." (God doesn't always give me clear cues about what to do, so when I hear something this direct, I'd be an idiot not to listen.)
Although it was completely counterintuitive to what my brain told me to do, I rested. From 8 am to 8 pm, I didn't work, plan, get on social media or try to get ahead with any projects or household chores. I mean, we did grocery shop but a girl's gotta eat! It was tough to be intentional about rest, but by that evening I felt refreshed and recharged for the week ahead. Then on Monday morning, something magical happened. I completed that to-do list from Sunday and more. With a clear mind and focus, I started my week with the motivation I had been missing just days before. God used rest to show my stubborn heart that He's in charge and the one doing the heavy lifting in my life, not me. And more than that, He made me realize that I should be GRATEFUL to serve a God who requires me to rest. I mean, what boss has EVER told you to intentionally rest once a week so you can bring them glory? (I'll wait for your response but I doubt it's coming.) One of God's top 10 commandments was about rest (Exodus 20:8-11) so we know it's important!
Week 7 of the STAY study about rest reminds us "we are limiting God when we choose to handle stress and find rest on our own… Why keep struggling in the crashing waves of life when the Lord is on standby, just waiting to be called in for the rescue. Rest is not easy to come by in a stressful situation, but the Lord can provide. All we have to do is ask and believe He can answer our prayer."
Friend, don't wait until it's too late to seek rest with the Lord. Plan a weekly Sabbath and keep it Holy, even if it's just for several hours. Worship, nap, read a book, go for a walk, schedule a massage, and disconnect from media (television, social media, news, etc.) Whatever you do, slow down and give thanks for a God who asks us to REST!
---
Also in Wheatful Woman Blog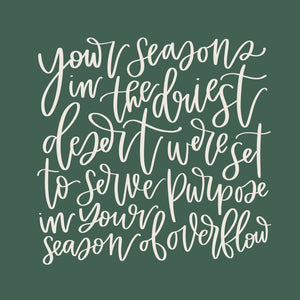 There is great power behind The Lord pouring into our lives abundantly more than we could hope or imagine. It's in the overflow. According to Merriam Webster, overflow can be defined as, "to fill a space to capacity and spread beyond its limits". All of us are limited to the extent of action or changes we can make alone. But we have a limitless God who has the power to move and flood the open spaces for His glory to reign. We have opportunity to overflow into the lives of others when we're fi...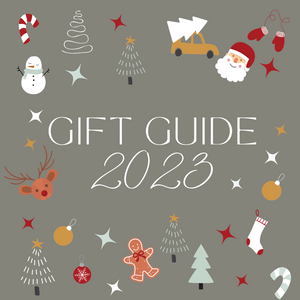 Gift guide to encourage the believer!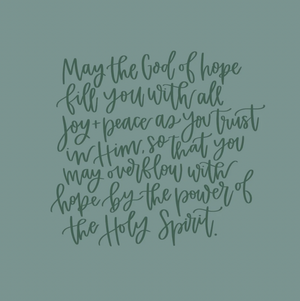 We have a beautiful promise from Jesus that He will fill us back up and refresh our spirit by giving us peace and joy. First, we're instructed to take action by trusting and remaining open so He can flow in. What does it look like to have Jesus meet you where you're at to show up and refill you back up?