Forgive as the Lord forgave you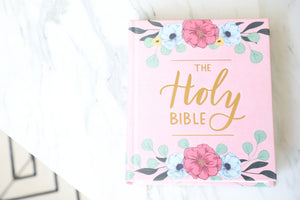 When you hear the word forgiveness, who is that person that comes to mind? When you first read the topic for this week of our community study of STAY, who did you first think of that has wronged you that you're struggling to forgive? What guilt washed over you?

Let's start right here. Right where our hearts lead us. 

Let's look at scripture covering the forgiveness of others.

Bear with each other and forgive one another if any of you has a grievance against someone. Forgive as the Lord forgave you. Colossians 3:13

For if you forgive other people when they sin against you, your heavenly Father will also forgive you. But if you do not forgive others their sins, your Father will not forgive your sins. Matthew 6:14-15

So watch yourselves. "If your brother or sister sins against you, rebuke them; and if they repent, forgive them. Even if they sin against you seven times in a day and seven times come back to you saying 'I repent,' you must forgive them." Luke 17:3-4

Now, let's look at what the Bible says about Christ's forgiveness extended to us.

If we confess our sins, he is faithful and just and will forgive us our sins and purify us from all unrighteousness. 1 John 1:9

Repent, then, and turn to God, so that your sins may be wiped out, that times of refreshing may come from the Lord. Acts 3:19

"Come now, let us settle the matter," says the LORD. "Though your sins are like scarlet, they shall be as white as snow; though they are red as crimson, they shall be like wool." Isaiah 1:18

It was intimidating when I first saw I was writing on the topic of forgiveness. It's one of those topics that can be warm and fuzzy while being extremely convicting. In order to understand our God, His love for us, and our mission here on earth, it's crucial we understand both aspects of forgiveness. We have been forgiven and to receive this forgiveness we must understand the importance of extending grace to others. 

For with the judgment you pronounce you will be judged, and with the measure you use, it will be measured to you. Matthew 7:2

Remember that conviction I just mentioned? I feel it after reading Matthew 7:2. I recently came by this verse and will never forget it. When I'm faced with the opportunity to forgive or hold a grudge, this verse clearly points me to the way our God has called me to love.

I want to take you all to our week 8 of STAY for a moment. Jantzen shares, "I remember in my early twenties, I'd lay in bed night after night fighting back the urge to tell God something I wasn't proud of. It was something I'd been carrying around for years, and I was just sure that if I didn't bring it up, He wouldn't know about it and wouldn't make me face it. Instead of bringing it to God and letting Him heal my brokenness in my heart, I'd block out His whispering invitation for confession with whatever noise I could find. Work events, girls nights, out of town trips, wine-filled dinners, you name it. If my shame was looking for an appointment with me, I'd just fill my calendar so we'd never have the available time to meet. Then one night on my way to a friend's house, the song How Can It Be came on. Lauren Daigle sings:

I am guilty, ashamed of what I've done, what I've become.
These hands are dirty. I dare not lift them up to the Holy One. 

Yes! That was me. I felt the exact same feelings of not being able to even bring my guilt to God because I was the worst. I was ashamed of my choices, and my past. My hands, in my eyes, were the dirtiest. Then Lauren sings the chorus.

You plead my cause, you right my wrongs, you break my chains, you overcome. 
You gave your life to give me mine. 
You say that I am free, how can it be?"

I share this with you because I find it extremely relatable. As I picked up my STAY study to complete this week for the second time, I couldn't seem to find better words to illustrate forgiveness. Forgiveness for our wrongdoings and forgiveness of others. As you read Jantzen's story, didn't you so desperately want to tell her she had been forgiven? I have to imagine that's exactly how our God feels. Desperately waiting for us to see His love, His forgiveness, waiting for our acceptance. 

We are invited to be forgiven, to lead lives of holiness in Him, and to accept healing. Let's accept His invitation today and step into the strength that comes with knowing Him that much more intimately through it.

God, I pray we would be sent out today with eyes opened to your love through extending us forgiveness and how you call us to extend it ever so quickly to others. Would you do a work in our hearts today to trust you in your call over our lives to be forgivers? Would you help us to see the strength and love you offer so freely when we accept your forgiveness and extend it to others. We love you, Amen.
Brittany Goff
---
Also in Wheatful Woman Blog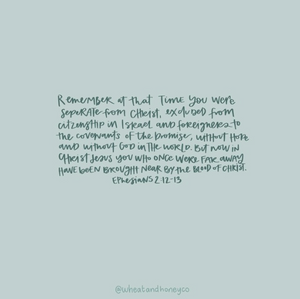 Mephibosheth, whose name means "shame", was the son of Jonathon and the grandson of King Saul. He was a crippled man living in a dry wasteland called Lo-Debar which means "no pastures." He was living there because when he was just 5 years old, news spread that his dad and granddad, Jonathan and Saul, were both killed. The remainder of Saul's family could only assume that with the new King David coming into power, they would all be killed off next, so they fled in fear to become exiles and ene...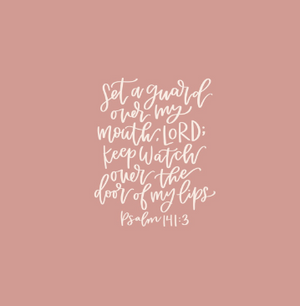 God, please forgive me when I have used hurtful or unnecessary words to gain a sense of control. Help me trust you to guard every word that comes out of my mouth.
We can find biblical hope for this struggle when we consider the story of the Israelites' exile in the Old Testament. The afflictions of the Israelites' exile were two-fold. On one hand, they were exiled because of their own sin, and on the other hand, their burdens were increased because of the sin of the nations oppressing them. I am certain that if I were an exiled Israelite, I would have been grumbling and throwing pity parties the majority of the time. How does God respond to them? Throu...