Finding purpose in every opportunity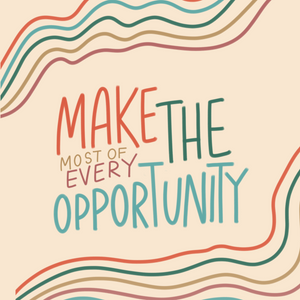 Finding Purpose In Every Opportunity
Be very careful, then, how you live—not as unwise but as wise, making the most of every opportunity, because the days are evil. Therefore do not be foolish, but understand what the Lord's will is. Ephesians 5:15-17 

I don't know about you, but there are times when I get so caught up in 'what is my purpose' that I tend to lose sight of what God has right in front of me. I love the scripture in Ephesians that highlights 'making the most of every opportunity,' as a beautiful reminder that each day God chooses to give us new mercy and new grace (Lamentations 3:22-23) that is completely filled with opportunities to love God and love others. 

Ephesians also gives us a clear warning that 'the days are evil;' emphasizing the importance of making the most of every opportunity to speak His truth, His righteousness, His salvation and His Word through everything we do. 

When I take a step back and choose to remind myself of how kind God is through His mercy and grace, I no longer have to be caught up in 'what is my purpose' and instead fix my eyes on being extremely dedicated and awake to loving Him and His people throughout the day; meditating on His will for us and giving Him all the glory along the way. 

Today, let's be women who optimize every opportunity our Savior entrusts with us for the sake of growing closer to Him in order to look more like Him. When we can do that, we are boldly and confidently walking in our purpose.
 
Kristen Meyer Schumacher is a marketing professional, a lover of writing, and an avid volunteer in her local community. Her passion and heart are to help women thrive in their God-given callings and unique gifts. In her free time, she blogs about embracing the everyday challenges of life while finding freedom in truly existing fully in your own skin. You can also find her spending time with her husband, William, and chasing around a very hyper and cute golden retriever named Brody. You can read more on her blog at Existingfully.com.
---
Also in Wheatful Woman Blog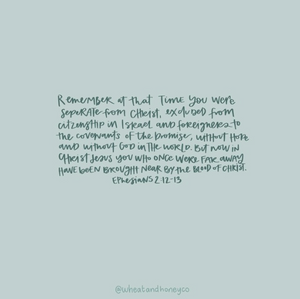 Mephibosheth, whose name means "shame", was the son of Jonathon and the grandson of King Saul. He was a crippled man living in a dry wasteland called Lo-Debar which means "no pastures." He was living there because when he was just 5 years old, news spread that his dad and granddad, Jonathan and Saul, were both killed. The remainder of Saul's family could only assume that with the new King David coming into power, they would all be killed off next, so they fled in fear to become exiles and ene...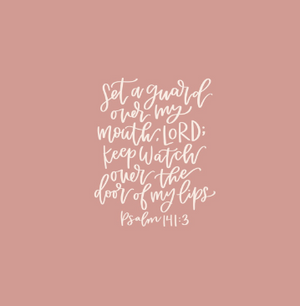 God, please forgive me when I have used hurtful or unnecessary words to gain a sense of control. Help me trust you to guard every word that comes out of my mouth.
We can find biblical hope for this struggle when we consider the story of the Israelites' exile in the Old Testament. The afflictions of the Israelites' exile were two-fold. On one hand, they were exiled because of their own sin, and on the other hand, their burdens were increased because of the sin of the nations oppressing them. I am certain that if I were an exiled Israelite, I would have been grumbling and throwing pity parties the majority of the time. How does God respond to them? Throu...