Embracing Rest in a Society of Overextension
Embracing Rest In A Society Of Overextension
And the effect of righteousness will be peace, and the result of righteousness, quietness, and trust forever.
Isaiah 32:17


Embracing rest in a society of overextension is our theme for the Wheatful Wednesday devotionals this November. As we prepare for a new month ahead, during a year none of us could have predicted, I want to take a moment to prepare our hearts.

Most of us are either in one bucket or the other.
1. I've had SO MUCH time at home this year.
2. I haven't stopped showing up to work (outside my home) and have not experienced this home quarantine others speak of.

I want us to think about which bucket we fall under for a moment. Got it? Put it on the bench, sister. When we see the word "rest" most of us think of downtime, which is often associated with being home. I think God is calling us to a different kind of rest this November.
Brittany, how can you move at my pace vs. the worlds?
Where are you finding me and stilling your heart?
When are you allowing me to fill your tank for the adversity you will face today?
What matters MOST to you?
WHO matters to you?
These are the questions I'm asking myself as I enter a new month. Can I encourage you to write down your personal answers to these questions too?

We have been issued an invitation to STILL OUR SOULS. Are we doing this well? Are we acknowledging the practical ways we can prioritize rest? It doesn't have to be overwhelming. It can simply be the next right small thing to live a full life that matters. What is one practical practice you can implement in your days the rest of this week? Here are a few ideas:
Arrive to work 5 minutes early to give yourself a quiet moment of prayer in the car before you get out
Spend 2 more minutes in the shower taking deep breaths and practicing a grateful heart
Our God created us to need Him. How will we choose to still our hearts today to make sure we don't miss the opportunity to find Him?

Britt Goff
Britt Goff, the founder of W&HC and host of the Wheatful Woman Podcast, believes the power of authentic community can change the lives of women when they show up and share their stories for the purpose of connecting with and empowering women just like them. She set out as an entrepreneur to encourage women in their faith by equipping them with study tools and real relationships. When Britt isn't leading women, you can find her in Grapevine, TX with her husband, Michael, and golden retriever, Tucker.
---
Also in Wheatful Woman Blog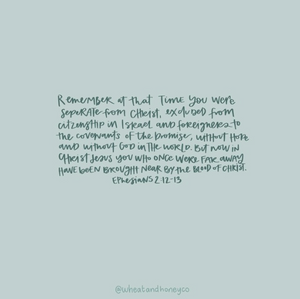 Mephibosheth, whose name means "shame", was the son of Jonathon and the grandson of King Saul. He was a crippled man living in a dry wasteland called Lo-Debar which means "no pastures." He was living there because when he was just 5 years old, news spread that his dad and granddad, Jonathan and Saul, were both killed. The remainder of Saul's family could only assume that with the new King David coming into power, they would all be killed off next, so they fled in fear to become exiles and ene...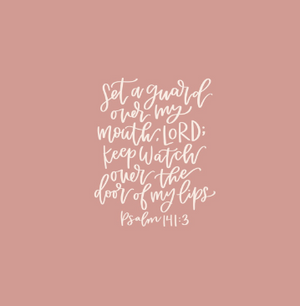 God, please forgive me when I have used hurtful or unnecessary words to gain a sense of control. Help me trust you to guard every word that comes out of my mouth.
We can find biblical hope for this struggle when we consider the story of the Israelites' exile in the Old Testament. The afflictions of the Israelites' exile were two-fold. On one hand, they were exiled because of their own sin, and on the other hand, their burdens were increased because of the sin of the nations oppressing them. I am certain that if I were an exiled Israelite, I would have been grumbling and throwing pity parties the majority of the time. How does God respond to them? Throu...