Do you trust God with your prayers?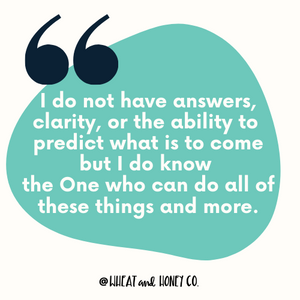 As I sit down to write each of my Wheatful Wednesday devotionals, I always start with remembering y'all. Believe it or not, we have a calendar of devotion topics that are scheduled a year in advance with y'all in mind. Yesterday, I sat down to write this devotional on the topic of surrender in the waiting asking the Lord to give me His wisdom. I always ask for wisdom before writing but something about this request felt different to me. I found myself writing on a topic of which I am in the midst of. I am in the middle of understanding how to surrender in this season of waiting. This season of waiting is unlike any season any of us have ever experienced. Due to COVID-19, we find ourselves with extra responsibilities, worries, and unknowns. We may be learning to be a teacher to our children, finding extra time to steward well, or in a season of leadership within our careers. No matter what your surrender in the waiting looks like today, I want you to know I'm writing these words coming from a place of walking in the thick of it with you. I do not have answers, clarity, or the ability to predict what is to come but I do know the One who can do all of these things and more.

I've been reading in

 

1 Samuel 1:1-20. This passage talks about God rewarding persevering in faith. Samuel's mother, Hannah, persevered in prayer and God gave her a son. Faithful to her promise, she gave her son back to God.

What does our waiting look like today? What desire of your heart feels stronger than all desires right now? What prayer are you waiting to be answered? I encourage you to identify what that is this morning and release it to the Lord in surrender. 

You might be thinking, but Brittany, what does surrendering look like when things are so unfamiliar and chaotic right now? If you're anything like me, your surrender becomes an hourly practice or a practice you are forced into after a meltdown. I want to end today's devotional with a few practical ways we can surrender together this week through prayer.

Let's challenge ourselves to find non-negotiable time in our days the rest of this week to release these desires to the Lord. I want to challenge us to find ten minutes at (or around) the same time today, tomorrow, and Friday to practice this intentional prayer sequence. For me, I commit to doing this following my quiet time in the morning around 7:30 am. 
What

 

enduring name

 

do you give our God? God, Lord, Father, Abba, Dad? Start your prayer with this familiar and never-failing love name you have for our God.
Take upon a

 

posture of prayer. For me, this is getting on my knees and turning my palms up as I feel the Holy Spirit inviting me in. Some days, that's immediate. Other days, I sit before the Lord for a moment before I turn my palms up.
Place your

 

desires before the Lord. Tell Him of the aches of your soul. The prayers you have over your life and the lives of those you love. Ask the Lord for His desires to become your desires.

Pray for others

Pray for your soul

Praise Him

 

for the work He has done and will do. Think of something to give Him praise for and be grateful.
Sit in expectancy

 

for the ways He is leading you and your life for His good and His Kingdom so we might know Him more and love others as He has loved us.
---
1 Samuel 15:22 New Century Version
"What pleases the Lord more; burnt offerings and sacrifices or obedience to his voice? It is better to obey than to sacrifice. It is better to listen to God than to offer the fat of sheep."
---
I would love to open up our conversation within our Facebook group and also through email. If you have a prayer request you would like to share either with the community through Facebook or directly with me, I'd love to invite you to do that. You can

 

click here

 

to join our Facebook group or respond to this email to share directly with me. Lifting this community of women up as we seek and find our Father this week.

Brittany
Brittany Goff, the founder of Wheat and Honey Co. and Wheatful Woman Event, lives in Grapevine, TX with her husband, Michael, and golden retriever, Tucker.

Brittany recently stepped into business ownership in the belief that an authentic community can change the lives of women when they share their stories for the purpose of connecting with and empowering others in faith. Brittany enjoys equipping women in their faith through W&HC's Bibles and study tools, Wheatful Woman Event and coaching female business owners.

"A thriving life starts with intentional habits today"
Photography credit: Gro Group Co.
---
Also in Wheatful Woman Blog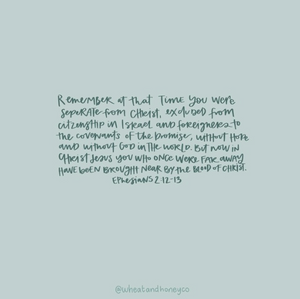 Mephibosheth, whose name means "shame", was the son of Jonathon and the grandson of King Saul. He was a crippled man living in a dry wasteland called Lo-Debar which means "no pastures." He was living there because when he was just 5 years old, news spread that his dad and granddad, Jonathan and Saul, were both killed. The remainder of Saul's family could only assume that with the new King David coming into power, they would all be killed off next, so they fled in fear to become exiles and ene...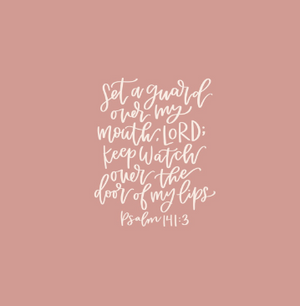 God, please forgive me when I have used hurtful or unnecessary words to gain a sense of control. Help me trust you to guard every word that comes out of my mouth.
We can find biblical hope for this struggle when we consider the story of the Israelites' exile in the Old Testament. The afflictions of the Israelites' exile were two-fold. On one hand, they were exiled because of their own sin, and on the other hand, their burdens were increased because of the sin of the nations oppressing them. I am certain that if I were an exiled Israelite, I would have been grumbling and throwing pity parties the majority of the time. How does God respond to them? Throu...