Assured over Anxious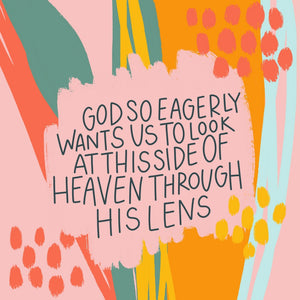 "For God gave us a spirit not of fear but of power and love and self-control."  2 Timothy 1:7 ESV

As I write this, I can't help but imagine God's presence with me like a loving father who has graciously been trying to help me solve a seemingly-tricky math problem on an assignment that I should have grasped a while ago. I can clearly envision Him giving me a warm smile and gently patting me on the back as the light bulb finally goes off in my head, and I feel so silly for not understanding the overall concept long before now. I hope this message resonates with my friends who grapple with daily anxiety amidst knowing God's goodness like it did with me. We must armor up to fight the daily battle and choose to be assured over anxious. Are you ready?

I often equate anxiety to a low-level, constant white noise in the background - it is always there, even when we don't feel there is reason for it, but boy do we notice it when we're not moving. In seeking His wisdom and peace, God so graciously reminded me of His truth in 2 Timothy 1:7, where we are reminded that He has blessed each of us with a spirit of power, love, and self-control. Not one of fear or anxiety. I don't know about you, but my anxiety is often rooted in my flesh feeling out of control, unworthy, or powerless. Not one of those things was meant for us, for He is in control, He is worthy of our adoration and love, and His power is in and through all things. If the desire of our heart is to truly have control, worthiness, and power over our circumstances rather than surrender our hopes and fears to our omniscient, omnipotent God, we need to check our heart posture.

God so eagerly wants us to look at this side of Heaven through His lens - a lens where we see our potential and purpose when we believe we have His spirit within us - the only thing that gives us true peace, power, love, self-control, and purpose. The spirit of fear that so easily entraps us is not of God, and was never meant for us. What will it take for you to accept God's invitation to look through His lens today and see what living this day with a 2 Timothy 1:7 mentality could do?
@jess_barr #wheatfulwednesday
Jessie

 

Barr

 is a pediatric speech-language pathologist in the Dallas-Forth Worth area. She is a firm believer in the power words can hold when spoken over someone with the light and love of the gospel and aims to help people see the value they bring to the world. She loves connecting to other women of Christ through their unique stories and loves this W&HC. community!

@jess_barr
---
Also in Wheatful Woman Blog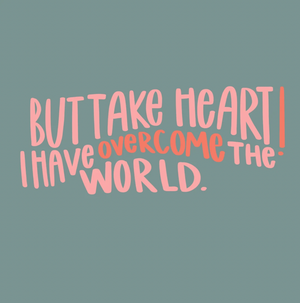 Lord Jesus, we thank you that you are never surprised by the flames thrown into our lives. We praise you that though they may surround us you never forsake us, and we have the gift of unexplainable peace. Be with my sisters undergoing fire. Holy Spirit I ask you would move mightily and bring your presence near so she can find comfort in you. We place our trust in you. Amen.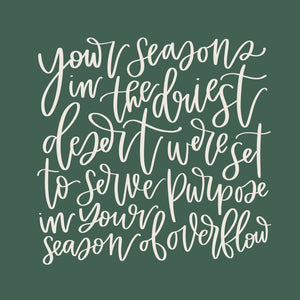 There is great power behind The Lord pouring into our lives abundantly more than we could hope or imagine. It's in the overflow. According to Merriam Webster, overflow can be defined as, "to fill a space to capacity and spread beyond its limits". All of us are limited to the extent of action or changes we can make alone. But we have a limitless God who has the power to move and flood the open spaces for His glory to reign. We have opportunity to overflow into the lives of others when we're fi...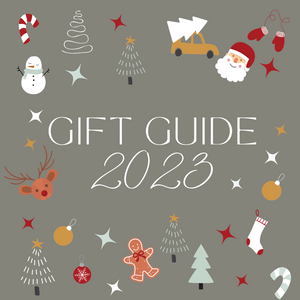 Gift guide to encourage the believer!