You are Healed and Called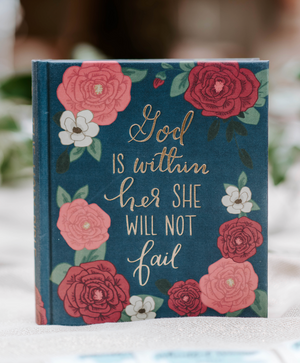 "Trust me" Psalm 28:7
"Do not be afraid" Deuteronomy 3:22
"You are healed" Jeremiah 17:14
"I am with you" Genesis 28:15

It was February of 2017. I was a young professional living in Dallas, working consistent 80+ hour weeks working my way up the ladder in my sports marketing career. I knew Jesus intimately and was surrounded by a close community of women seeking to know Him more. I was completely under the impression that the box was checked, that I was doing the right things but in reality was completely oblivious to the way the Lord wanted me to really know Him. Have you been there? Unaware of the deeper intimacy with the Lord that's waiting on you? I sought affirmation from people for the hard work I was doing, the long hours I was working and the "sexiness" of my job. I sought attention from my doctor after realizing my dizzy spells, middle of the night migraines and extreme exhaustion could be something that allowed others in my life to see me. To really see the hard work I was putting in. To save me. What I didn't expect was to find a mass right in the middle of my brain. Talk about a wake up call.

In a nutshell, my brain health is completely stable. My God grabbed a hold of me and for the first time, I realized I'm fully seen and known. I felt aware of my ability to accept the way our God sees me. I slowed down and realized my desire to be affirmed can only be fulfilled by my relationship with the Lord. After several blood tests, MRIs and a spinal tap, it was determined I have a multifaceted cyst in my pineal gland that is benign. Should it be there? No. Is it causing harm to my body? No. My team at UTSW monitors me with routine MRIs to ensure this mass does not become a problem but for now, I want to tell you what God did for me in this experience. In the middle of a process of unknowns, tests, and going from "healthy" to "unknown" overnight, I grew to know Him so much more intimately than I ever knew I could. I cannot explain the deep peace and hope I felt as I was waiting to receive that call from my doctor. I cannot explain "why" I laid belly down on that metal table during my spinal tap and whispered "Hosanna in the Highest" as tears of full surrender and peace rolled down my face. I can't explain it, but I can tell you I have never in my life had an experience of knowing my God is good like I did during that journey. I knew He had healed me even when I didn't know my medical diagnosis. I knew He called me to trust Him, to not be afraid and to know He is always with me.

As a Christian, the topic of healing is tricky. The desire of our hearts is to see radical healing surround us. We pray to God for good health, for protection and for His hope in it all. And our God is a God of healing, of protection and of goodwill for His children. What I did not realize until the day of my spinal tap was that His healing takes place when we trust Him, through our faith. When we face indescribable grief and pain, He heals us. Though healing may not look the way we imagined, but we can know He's still working for our good. We are called to trust Him in our unknown knowing He will NEVER leave us or forsake us. He is always walking alongside us, ready to share His indescribable and all encompassing peace and hope. And my sister, when you have experienced that intimacy with Jesus, you must tell about it. We must share with others that we have been created, saved and loved by a God that gives us access to know Him fully.

I will carry the day of that spinal tap with me for the rest of my life. My 26-year-old self, terrified of needles and the fear surrounding the lack of control over my health, laid on that table and locked arms with my mom. My sister created a playlist titled "B" for the procedure, something to give me distraction during the pain and fear. I have never praised our God as I did then. NEVER. I did not know what the words "Hosanna in the Highest" meant but I sang them with all of my heart. I felt the definition of Hosanna: Adoration, Praise, Joy in the HIGHEST as a feeling not a definition. My Bible has the words "Hosanna in the Highest" painted across the cover to remind me of that feeling of His peace that surrounded me on that day before I ever knew how to ask for it or receive it. He met me there. He showed me the way. He assured me I was not alone but accompanied by the God that created me. The God whose love is never ceasing. The God that is waiting to bring me to join Him in eternity. How sweet it is to know and fight to know a God like that.

Britt Goff

God,
I pray that you would surround us this morning. I pray you would hug each woman reading these words today. Lord, if the women hearing from you today have felt this intimacy with you, would you remind them of that peace right now? If my sisters reading this today have not felt that incomprehensible peace you offer, would you show them the way to that intimate space with you? God you're so good and your love is never failing. I pray over my sisters today that are walking in the unknown. I pray for my friends struggling with grief. God, would you surround them with your love through your word, your truth, and your people? Lord, we love you. Thank you for showing us the way to know you and rest in your goodness today. We need you, God.
Amen.

A few songs we can listen to this week in hope, healing and seeking:

Hosanna in the Highest by Hillsong UNITED
Hosanna, Hosanna
Hosanna in the highest
Heal my heart and make it clean
Open up my eyes to the things unseen
Show me how to love like you have loved me


What a Beautiful Name by Hillsong Worship
What a beautiful Name it is
The Name of Jesus

You didn't want heaven without us
So Jesus, You brought heaven down
My sin was great, Your love was greater
What could separate us now

You have no rival, You have no equal
Now and forever, Our God reigns
Yours is the Kingdom, Yours is the glory
Yours is the Name, above all names
Photography credit: Restoring Moore
---
Also in Wheatful Woman Blog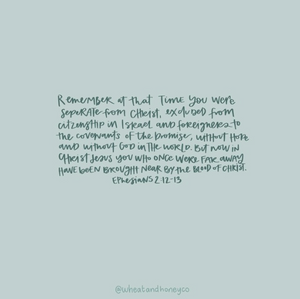 Mephibosheth, whose name means "shame", was the son of Jonathon and the grandson of King Saul. He was a crippled man living in a dry wasteland called Lo-Debar which means "no pastures." He was living there because when he was just 5 years old, news spread that his dad and granddad, Jonathan and Saul, were both killed. The remainder of Saul's family could only assume that with the new King David coming into power, they would all be killed off next, so they fled in fear to become exiles and ene...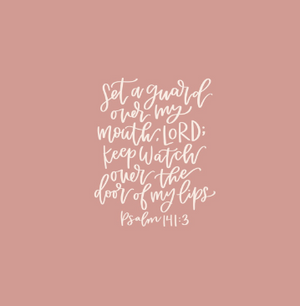 God, please forgive me when I have used hurtful or unnecessary words to gain a sense of control. Help me trust you to guard every word that comes out of my mouth.
We can find biblical hope for this struggle when we consider the story of the Israelites' exile in the Old Testament. The afflictions of the Israelites' exile were two-fold. On one hand, they were exiled because of their own sin, and on the other hand, their burdens were increased because of the sin of the nations oppressing them. I am certain that if I were an exiled Israelite, I would have been grumbling and throwing pity parties the majority of the time. How does God respond to them? Throu...