Here's what it means when Christ says we're "Free Indeed"
So if the Son sets you free, you will be free indeed.

– John 8:36 ESV

I struggled writing this week's devotion. Nope, I take that back because it's so much heavier than that. I felt ill-equipped to write this week's devotion, meaning I put it off to the last minute and then once again had to rely on God to bring the words I couldn't. This week's identity characteristic, freedom, is a topic we need, but it's one I think a lot of us haven't mastered and don't fully understand. To add to the confusion, next week's topic was set to be about holiness, but I felt like I couldn't talk about freedom without talking about it within the context of holiness. So, I combined them. Forgive me in advance for breaking the rules of our Wheatful Wednesday norm.

When we accept the notion that we're "free" as Christians, what does that mean?

For starters, being set free in our faith means we're not chained to our sin, past or potential. We're free to accept the forgiveness and grace of Jesus when we screw up or fall short. We can repent from our sin, ask forgiveness, and surrender our burdens at the cross with our Savior. We can know with all certainty that the foundation of our identity is based on God's love for us, not in our ability to perform or measure up. Sounds pretty great, right? But we can't just stop at freedom in a lens of grace.

Being set free also means that we're free from the temptation to sin, and not only capable but called to live a holy life. Today's verse, John 8:36, is an incredible verse about our freedom in Christ, but to get the whole story about grace and holiness, we have to go back to the beginning of the chapter. Jesus had just intervened to save the life of the adulterous woman who was about to be stoned. When everyone had gone away, He asked her, "Woman, where are they? Has no one condemned you?" She said, "No one, Lord." And Jesus said, "Neither do I condemn you; go, and from now on sin no more." (John 8:10-11)

Let's not miss this. Jesus released her from the burdens of her past sin by extending His grace when He said, "neither do I condemn you." However, He gives the call for the freedom found in holiness by saying, "from now on sin no more."

Sister, we are called free by our Savior. But if we're too lax with the idea of freedom in the lens of grace, we use it as the reason or excuse for sinning and doing life however we want. "I'm a Christian, which means Jesus will still love me if I sin." On the contrary, if we're too rigid about the term as it relates to our freedom from the need to sin and the call to be holy, we can hold ourselves and others to a standard of perfection, making it easier to judge or difficult to seek or accept love and forgiveness when we slip up. "I'm a Christian, which means I should've resisted that sin. But I didn't so I'm not good enough." I believe the answer lies somewhere in the tension of the middle, with an equal balance of both grace and holiness.

Every day, we can walk in faith, believing that we're free from sin: period. That includes the past sin we've committed and repented for, allowing Jesus' sacrifice on the cross to take its place. That also provides freedom from potential sin, meaning because we have the Spirit of the Lord in us and are a holy heir to the Kingdom of God, we're free to resist the temptation to sin and able to do His will. May we accept the freedom that comes from the loving grace of God and also the kind that comes from His higher call to be holy.

(For more on the balance between grace and holiness, we recommend reading "Dance, Stand, Run" by Jess Connolly.)
_________________________________________________________________
Jantzen Jolly-Miller is a small business marketing professional and freelance faith writer who is on a mission to help women get real: real with themselves, with their business, and with their relationship with God and His church. In addition to being the lead content writer for Wheat and Honey Co., she blogs about personal takeaways from her life and faith walk to help women create positive change in their everyday routines at JantzenJollyMiller.com
---
Also in Wheatful Woman Blog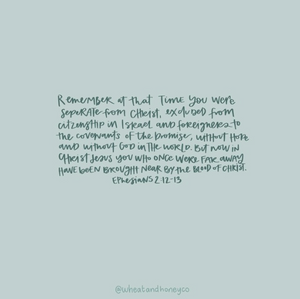 Mephibosheth, whose name means "shame", was the son of Jonathon and the grandson of King Saul. He was a crippled man living in a dry wasteland called Lo-Debar which means "no pastures." He was living there because when he was just 5 years old, news spread that his dad and granddad, Jonathan and Saul, were both killed. The remainder of Saul's family could only assume that with the new King David coming into power, they would all be killed off next, so they fled in fear to become exiles and ene...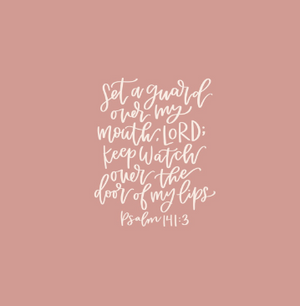 God, please forgive me when I have used hurtful or unnecessary words to gain a sense of control. Help me trust you to guard every word that comes out of my mouth.
We can find biblical hope for this struggle when we consider the story of the Israelites' exile in the Old Testament. The afflictions of the Israelites' exile were two-fold. On one hand, they were exiled because of their own sin, and on the other hand, their burdens were increased because of the sin of the nations oppressing them. I am certain that if I were an exiled Israelite, I would have been grumbling and throwing pity parties the majority of the time. How does God respond to them? Throu...