Arm Yourself with the Truth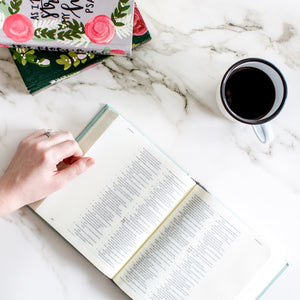 "Therefore put on the full armor of God, so that when the day of evil comes, you may be able to stand your ground, and after you have done everything, to stand. Stand firm then, with the belt of truth buckled around your waist…" - Ephesians 6:13-14
I once heard that the closer you are to God, the more Satan will attack you. Well, I must be growing in my faith because I've been in a wrestling match for weeks now, struggling with feelings of inferiority, purposelessness and imposter syndrome. More often than not, I find myself pep talking my way out of a spiral.
We've talked before about how Satan pumps lies into our mind, and I want to reiterate that these occurrences aren't few and far between: we're constantly under attack. To defend ourselves, we have to make sure we arm ourselves with God's truth every single day, if not every hour, because Satan is on standby, waiting for the opportunity to pounce on our vulnerable hearts. 
Sister, arm yourself with truth today! Write this down on a post-it, put it on your mirror and seal it in your heart. 
[We are daughters of the God of the Universe, children of the King. You and I are worthy, we are loved, and we are already enough because of Christ's sacrifice on the cross]
If you're single
If you're in a hard relationship
If you're working a job or in a career that doesn't feel right
If you're questioning your calling or talents
If you're experiencing hardships with your children
If you have a small Instagram following
If your dream seems too far away
No matter the if, please meditate on this friend; You are already enough. 
We don't have to keep trying to measure up to who the world (or our inner Regina George) tells us to be. God calls us His beloved children and says the blood of Jesus already met his standards for us. May we believe this truth and remind each other of it in times of doubt and darkness! 
---
Also in Wheatful Woman Blog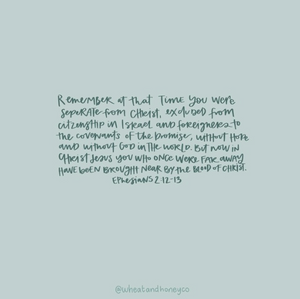 Mephibosheth, whose name means "shame", was the son of Jonathon and the grandson of King Saul. He was a crippled man living in a dry wasteland called Lo-Debar which means "no pastures." He was living there because when he was just 5 years old, news spread that his dad and granddad, Jonathan and Saul, were both killed. The remainder of Saul's family could only assume that with the new King David coming into power, they would all be killed off next, so they fled in fear to become exiles and ene...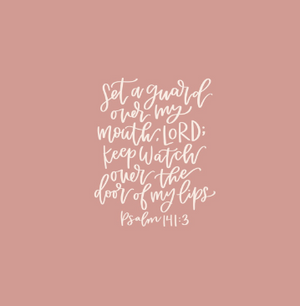 God, please forgive me when I have used hurtful or unnecessary words to gain a sense of control. Help me trust you to guard every word that comes out of my mouth.
We can find biblical hope for this struggle when we consider the story of the Israelites' exile in the Old Testament. The afflictions of the Israelites' exile were two-fold. On one hand, they were exiled because of their own sin, and on the other hand, their burdens were increased because of the sin of the nations oppressing them. I am certain that if I were an exiled Israelite, I would have been grumbling and throwing pity parties the majority of the time. How does God respond to them? Throu...