Are Expectations Stealing Your Joy?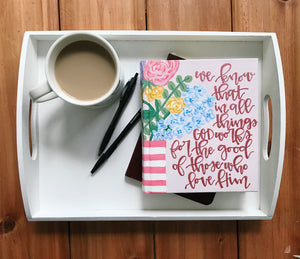 Be joyful always, pray continually, give thanks in all circumstances; for this is God's will for you in Christ Jesus. - Thessalonians 5:16-18
I have an expectation problem. I know it. My family jokes about it. My husband rolls his eyes at it. Ever since I was a little kid I've been dreaming up these perfect situations and scenarios in my head and marking them as fact. It's like I've been telling God all my life that I've created a beautiful piece of artwork for my life in my mind, and if he'd just cooperate, paint the picture I want and give me what I expect, I would be the happiest, funniest, most content woman in the world.
However, I've come to realize that our paint by numbers lives doesn't usually set us up to be the holiest versions of ourselves to surrender to God's will and advance His kingdom. The minute we expect things to happen or people to act a certain way, we lose the possibility of finding joy in the moments to come. How many times do we miss the moments of happiness that could come from the words on a birthday card because we're too fixated on the quality or thought of the gift? How often do we miss the beauty of a road trip landscape because we're too busy anxiously reading the map (or restaurant reviews on Yelp) towards the destination?
God blesses our blank slates and clean canvas with beautiful memories and outcomes if we come to Him with open hands and open hearts. It's when our expectations and preconceived notions take over that we lose sight of His possibilities and risk becoming bogged down with negative thoughts and let downs.
Weekly Challenge:
What expectations for your life (or the way it's supposed to go) are you holding onto? Ask God to help you release an expectation of yourself, your circumstances or another person that's keeping you from joyful contentment.
---
Also in Wheatful Woman Blog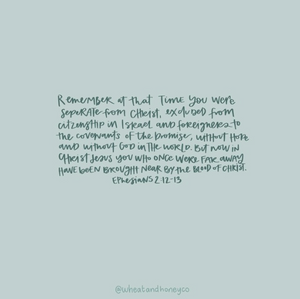 Mephibosheth, whose name means "shame", was the son of Jonathon and the grandson of King Saul. He was a crippled man living in a dry wasteland called Lo-Debar which means "no pastures." He was living there because when he was just 5 years old, news spread that his dad and granddad, Jonathan and Saul, were both killed. The remainder of Saul's family could only assume that with the new King David coming into power, they would all be killed off next, so they fled in fear to become exiles and ene...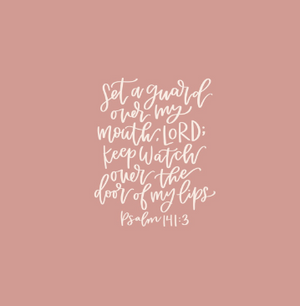 God, please forgive me when I have used hurtful or unnecessary words to gain a sense of control. Help me trust you to guard every word that comes out of my mouth.
We can find biblical hope for this struggle when we consider the story of the Israelites' exile in the Old Testament. The afflictions of the Israelites' exile were two-fold. On one hand, they were exiled because of their own sin, and on the other hand, their burdens were increased because of the sin of the nations oppressing them. I am certain that if I were an exiled Israelite, I would have been grumbling and throwing pity parties the majority of the time. How does God respond to them? Throu...